Paradox Development Studio's successful medieval grand strategy game, Crusader Kings II, has seen the release of its latest DLC. A cart-full-of-dead amount of new events and mechanics relating to sickness and health have been added on. It arrives with a considerable patch for all owners of the base game as well.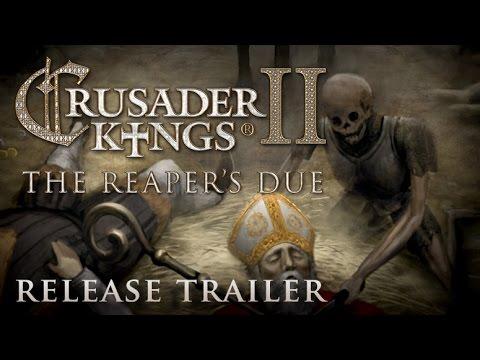 Crusader Kings II has never shied away from portraying the more unsavory parts of the medieval era to players; torture, maiming and plagues have long been a mainstay of the game. The theme of The Reaper's Due is life and death, prosperity and destitution, and the main focus of the expansion is giving players options to try to cheat death and deal with apocalyptic plagues. Court physicians may heal characters from grave illness or, if your doctor is not-so-talented, let your illness take you to the grave. Additionally, provinces now can prosper if carefully managed but may suffer depopulation due to war and disease and players can use new tools like hospitals to try to keep their population from suffering too much.
There's a lot of overhaul and expansion of systems in place. For one, disfigured characters now having their portraits reflect their less-than-perfect appearance. I played a bit earlier and was pleased to see lepers wearing masks and one-eyed characters eyepatches. Torture has also gotten way more specific, depending on character's culture and traits, prisoners can be subjected to all sorts of very unpleasant experiences. It's good, rather macabre stuff that adds an extra layer to Crusader Kings II's already quite effective emergent storytelling. More content in between marrying off children and trying to use my claims to expand my kingdom is always welcome in my book.
Oh, and characters can now have cats as pets.
And potentially become a crazy cat person
. Though, personally, I was more thrilled to find that pet owls are also a possibility.
As with all other major DLC releases, a somewhat hefty patch also landed today for all owners of Crusader Kings II. There's scores of balance changes, bug fixes, quality of life improvements as per usual. Most notably, however, is the inclusion of changeable game rules: players can now set up a lot of major parts of the game to their liking including if certain events show up, when and if the Mongols invade and if mechanics like defensive pacts are enabled. There's new UI changes and a few more decisions too. Another exciting change is game optimization,
resulting in much better performance
.
You can see the rather massive list of changes in the patch and full DLC features for yourself
here
.
You can grab The Reaper's Due through
Paradox's Webshop
or
Steam
. There's also a
new music pack
for all of you who like to grow your dynasties while listening to heavy metal.
Some you may have missed, popular articles from the last month: