Linux now has another good looking first person shooter, Deadfall Adventures has just entered beta!
We reported on this to you before
, so it should be no surprise to GOL readers, to those who don't remember, surprise!
QuoteHello,

All customers of Deadfall Adventures should now have access to the Linux depot. This is not a beta version since we need especially feedback on a wide variety of hardware configurations.
We are actively monitoring feedback and will provide if possible regular updates.

Here is a list of known issues:
==================================
KNOWN ISSUES

Please note that these issues are temporary and being worked upon!

* Loading indicator (spinner) does not show.
This means the game will not always give you visual feedback that it is
still working behind the scenes. We appreciate your patience!
* The game is playable, but may stutter with AMD's Catalyst (fglrx) drivers.
This is due to workaround for a bug in the driver. AMD engineers are
working to fix it.
* The game is memory-heavy and can be somewhat unstable on Intel HD graphics.
* Loading times are slow because of shader compilations.
* Game controllers have no force feedback.
* There are graphical corruptions in the menu level.
* On some combinations of hardware, drivers and graphics settings levels there
may be more graphical corruptions.
Should this happen, please try playing around with the video options.
* Game is not network-compatible with the Windows version yet.
* Anti-aliasing does not work.

Have fun!
Source
It doesn't have our little tux icon friend on the store yet, but that will soon follow as always.
About
Deadfall Adventures is an action-driven first-person shooter, spiced up with elements from action-adventure games. Become an adventurer, hunt for treasures, explore unknown regions of the world and rescue the damsel in distress from the clutches of enemies, both earthly and not-so-earthly. Join James Lee Quatermain on his journey across the globe!
Features
Action -Adventure gameplay from a first-person perspective 
Set in the Quatermain-universe, created by H. R. Haggard 
Fast-paced action and intense, accurate FPS gun battles 
Adventurer equipment: compass, treasure maps, notebook and flashlight – necessary to solve ancient puzzles, find treasures and even to defeat certain types of enemies 
Puzzles that encourage you to explore the game environment and interact with it 
Environmental traps that can be used to eliminate enemies in many spectacular ways 
Exotic, picturesque locations from around the world – Egypt, Arctic and forgotten 
Mayan ruins in the jungles of Guatemala 
Compelling story faithful to the spirit of classic action-adventure movies 
1930's setting, including detailed weapon designs 
Unique adventurer-style multiplayer features and modes
A little game-play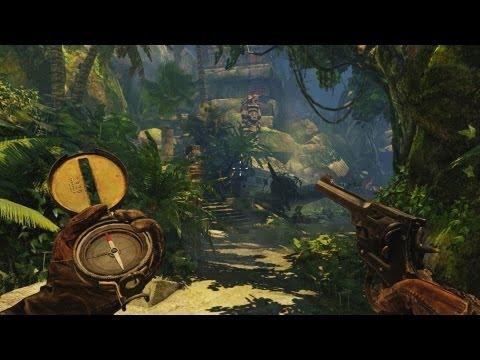 Well that's some grand news to end 2013 on right? I have officially added that to my new year wish-list!
Some you may have missed, popular articles from the last month: