A few days ago I published
an article
about three Kickstarter projects from Argentina and what they had to say about Linux. One of those was OKAM Studio's The Interactive Adventures of Dog Mendonça & Pizza Boy, and I briefly mentioned their open source GODOT Engine - which will be the subject of this article.
Despite being a Linux user and open source supporter, I am by no means an evangelist for the cause. In essence, I make a big distinction between creations and the tools used to create - accepting proprietary licenses and mild forms of DRM like Steam for the former (though I do think current copyright laws limit creativity), whilst strongly believing that things like game engines, APIs and operating systems should be open.
GODOT - which takes its name from the elusive character in Samuel Beckett's absurdist play - falls into the latter category in being an open tool designed to facilitate creativity through the medium of gaming and thus falls into the latter category and provides a much needed open alternative to Unity and others.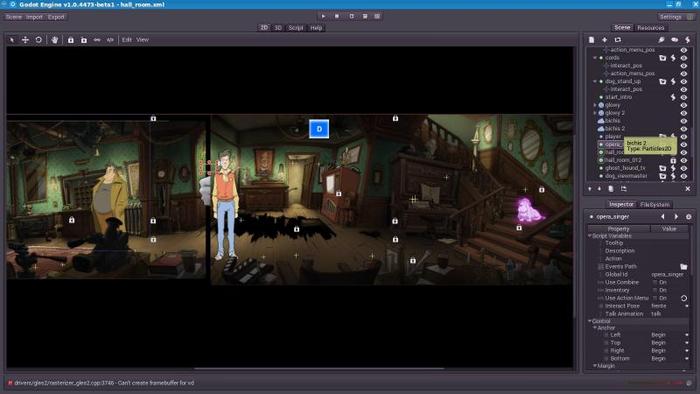 Having an open source project directly developed by those using and benefiting from it is rather refreshing in an industry where powerful and innovative in-house engines are rarely shared. OKAM has been actively working on and improving the engine during development cycles, adapting the engine towards the game, rather than the game towards the engine:
QuoteInstead of saying "let's add cool feature X" we say "let's make game X, and add the features needed to the engine". This is where our Kickstarter campaign comes in, not only are we trying to make a great game, but also keep maintaining and improving the engine.
Indeed, this is a good philosophy to follow, not simply because of the concept of giving back to the community, but because being on top of and constantly using the software eliminates some of the downsides which open source unfortunately has - such as the incredibly messy code bases found in projects like OpenGL.
The Interactive Adventures of Dog Mendonça & Pizza Boy will be the first Linux game released using the engine, which was made available on GitHub back in February. By using the GODOT to create the game, they are adding the tools necessary to create adventure games on the engine - which will then be made public after its release.
In essence, by supporting companies like OKAM using the engine, you are also funding the development of a great open source engine and adding new features to it - which is a pretty good deal for everyone and will hopefully make a dent in the predominantly proprietary game engine market.
Don't forget to visit the
Kickstarter page
and the
GitHub page
if you want to test it out for yourself (which I think I'm going to do this weekend). The Kickstarter page also features a demo of Dog Mendonça & Pizza Boy so you can see the engine in action on Linux.
Features:
Create complex 2D games with the fully dedicated 2D engine (no need for 3D over 2D), using pixel coordinates and a wide array of tools.
Create realistic looking 3D games with the dedicated 3D Engine, with full support for lights, shadows, occlusion, post processing, skeletal animation, etc.
Add custom behaviors to any object by extending it with scripting, using the built-in editor with syntax highlighting and code completion.
Animate your games with full support for editing, blending, animation trees, realtime cutscenes, calling function, or animate just any property exported by any node.
Add physics to your 2D and 3D scenes, through rigid and static bodies, characters, raycasts, vehicles and more.
Use the built-in debugger with breakpoints and stepping, or check the performance graphs for possible bottlenecks.
One-Click deploy to several platforms, such as Windows, Linux, Mac, Android, iOS, BB10 and HTML5.
Develop projects in a team using any choice of VCS, as Godot integrates flawlessly with all of them.
Modify the engine and publishing your games without restrictions, as Godot is distributed under the generous MIT license.
Some you may have missed, popular articles from the last month: