Neon Noodles released into Early Access a few months ago and since then, I've been directing my robotic chefs around madly trying to improve on their speed and it's quite engrossing. Note: Key from the dev.
The developer, Vivid Helix, is aiming for a Zachtronics-like experience with games like Opus Magnum (a personal favourite) and so far it does seem like they're close to succeeding with that aim. You design and build your own automated kitchen, placing down various blocks and chefs you direct around in a vibrant top-down style where you see everything happening. Here the main thing is repetition until you get your design down to solve the recipe puzzle you're given.
Getting going is easy, that's the big pull with Neon Noodles. The difficulty ramps up gradually and to a point where it makes you feel smart. That is until later levels, when you're trying to optimize your kitchen as much as possible and that's where it gets so gosh darn absorbing. Not just that, the presentation is brilliant too. Seeing your little chefs do their work is, at times, rather hypnotic in the efficiency of everything that's going on. I say efficiency loosely, as my own automation designs here and a bit rubbish but I can be rubbish in style.
Once you get into later levels, it will start giving you a comparison to other people in a chart-like leaderboard so you know where you might need to optimize and improve the flow of your kitchen.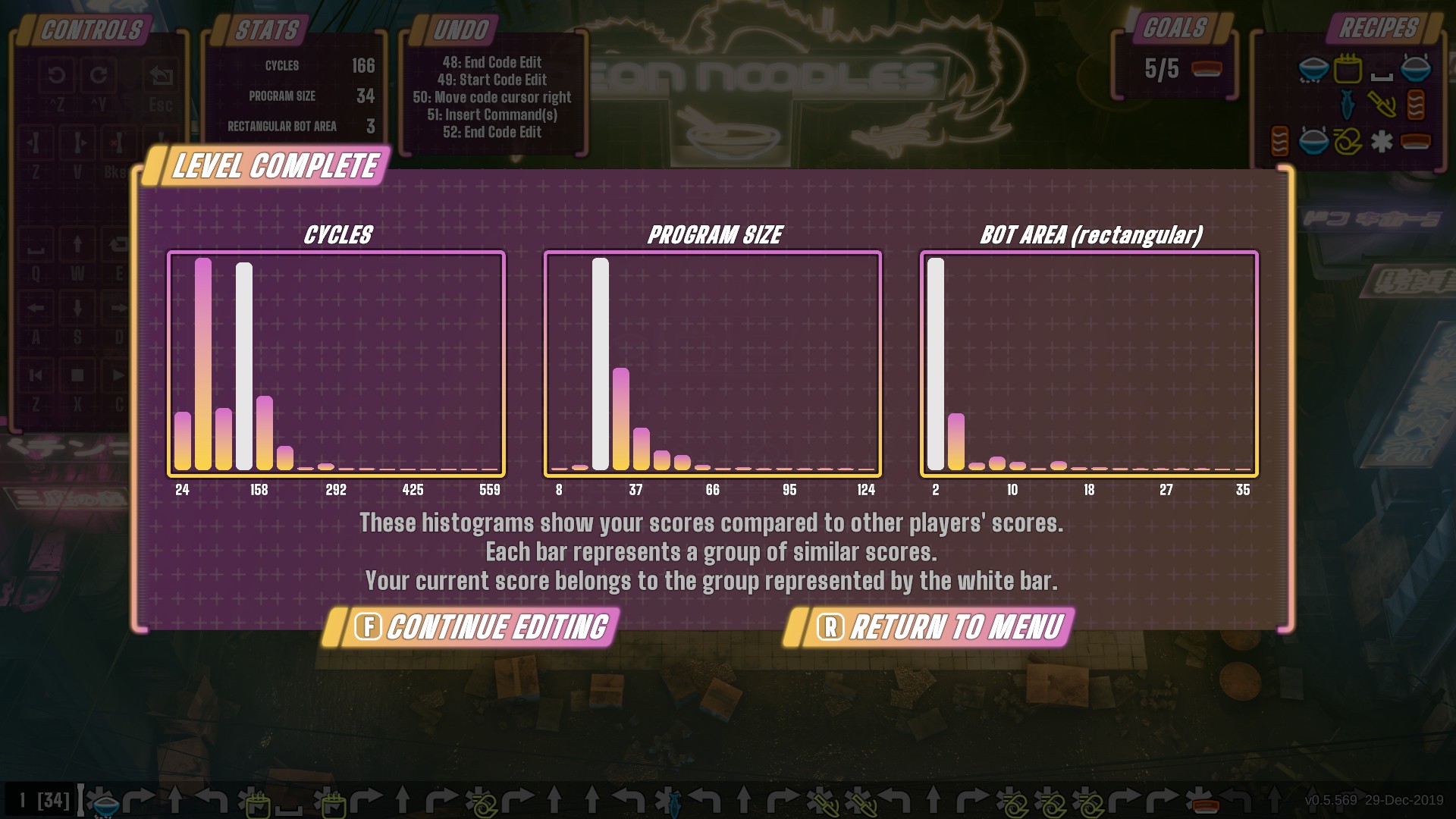 What's done right in Neon Noodles is how it allows for as much experimentation as needed. There's no timers, no faffing around with anything uncessary. It's you, your kitchen design and whatever simulation you can come up with that will just get the job done and from there—optimize, optimize, optimize!
That makes it quite a relaxing game to do over a coffee. Something not right in your simulation? Stop it, tap a few steps forward and insert some new commands. Need two robot chefs doing the same thing at some point? Link them together. The way it drip-feeds complication into it works well.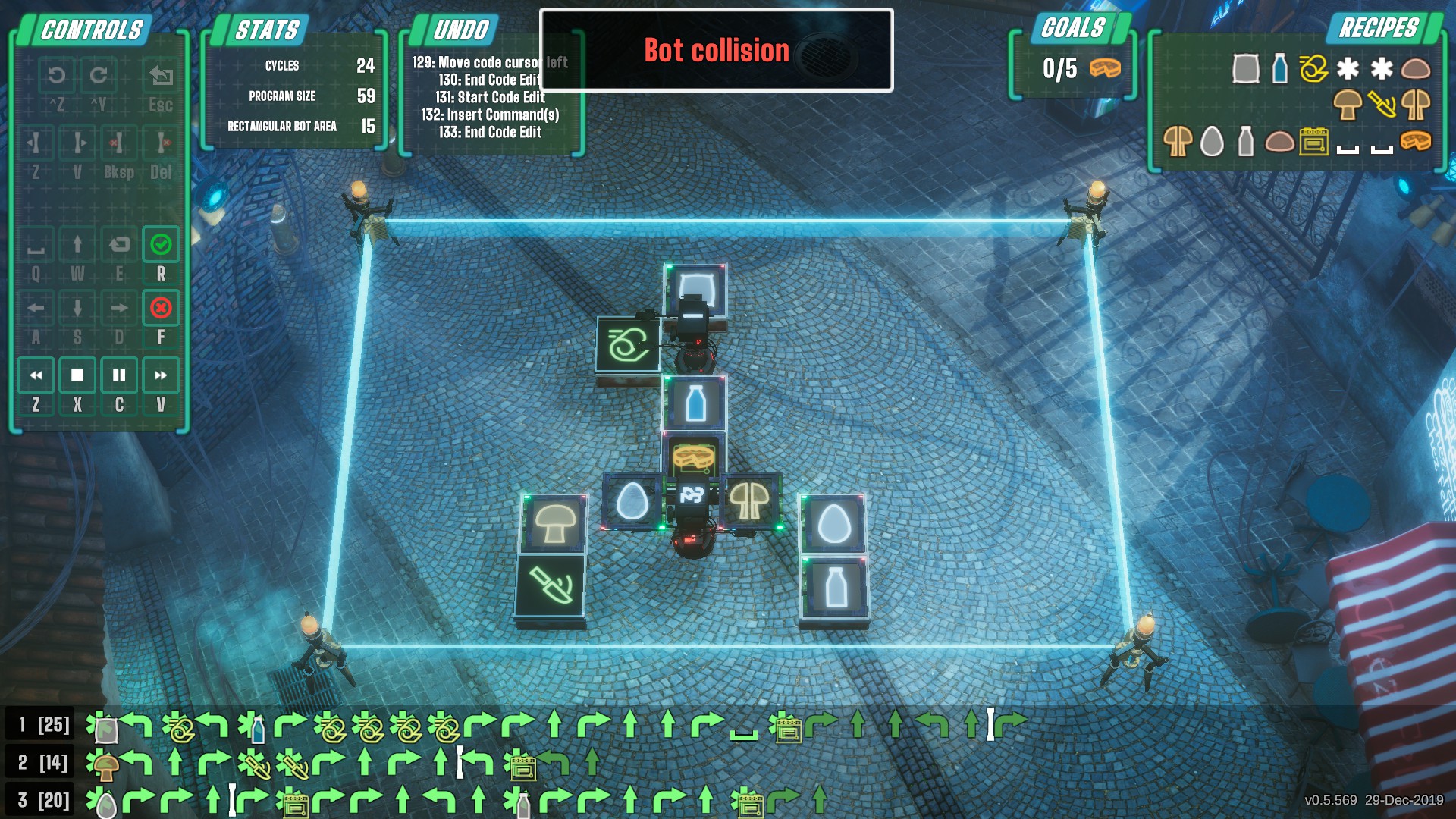 Now it's getting a bit more complicated…
The limit here really is your own imagination, and your problem solving skills. Mine were, as you can see from the above shot at the time, a little on the rusty side but Neon Noodles makes such failure somewhat amusing. As your bots bump into each other and then it just all goes to hell, as items end up getting put down everywhere they shouldn't be and one of them decides to take a long walk around because I forgot to tell them to return.
Want to see some of it in action? The original trailer is below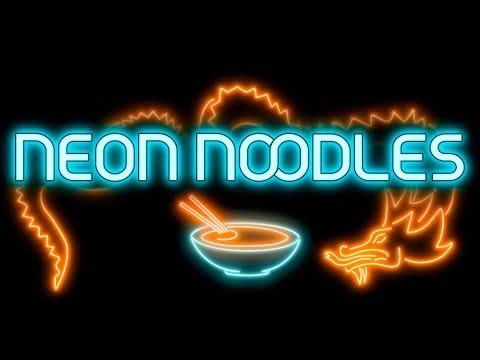 Feature Highlight:
Automate your robot chefs through an intuitive record-and-replay system where you control the robot that creates the program, then edit it later if needed.
Customize your cooking loops to be as simple, elaborate or streamlined as you want and compare your wits with other players around the world on the global leaderboards.
Solve endlessly replayable open-ended puzzles with over 100 recipes from around the world consisting of 200 unique ingredients.
Travel the world and master the art of cooking through technological advancement in a cyberpunk setting with plenty of brainwrecking levels.
Since entering Early Access, the developer has released multiple sizable updates based on feedback. Useful additions like multiple save slots, more tooltips to help you along, much better mouse controls and more. They have a lot still to add in, with a current focus on optimization, improved tutorial and a bunch of quality of life improvements needed before they bring in some more big changes.
With what it has currently, I think it's already great fun and worth picking up if you usually enjoy automation puzzles. After some more work on the initial flow of it and more content, it's going to be excellent I think. You can pick up Neon Noodles on Steam now.
Some you may have missed, popular articles from the last month: