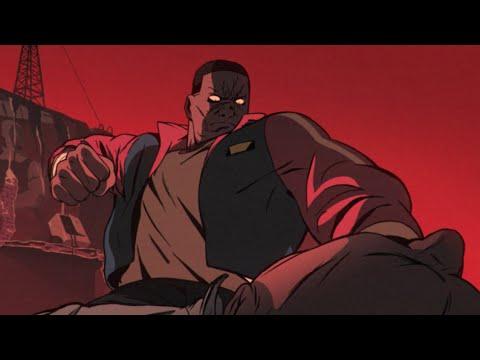 Mother Russia Bleeds is a rather violent beat 'em up that's now available day-1 for Linux. My friends at
GOG
sent over a key, so here's what I think.
Issues
First thing: If you have more than one monitor, it may start on the wrong one. Putting it in a window, dragging it over and setting it back to full-screen works fine though.
I highly suggested using a gamepad for this, as the keyboard controls are quite bad. I accidentally tried changing the "Select" keybind which was set as left-ALT, but it wouldn't let me re-use that key. The keybindings section of the options doesn't actually detect all the keys, which is annoying.
I wasn't able to actually get into a game using the keyboard, as there's no prompts. First impressions weren't good while using a keyboard.
Thankfully, SC Controller exists. Once I popped my Steam Controller into Xbox Controller mode all was dandy.
Gameplay
The game itself is damn, extremely brutal. You can throw an enemy down, get on top and repeatedly punch them in the face – savage.
The game is very much intended to shock you, and I do suggest doing the brief tutorial as it sets up how you came to be in this room where people in hazard suits give you injections. What's in the syringes? I don't have a clue, but it's glowing so that
cannot
be good.
You're actually able to use the syringe my character seemed to store in his pants on fallen twitching corpses to suck out this vital drug you need, it's totally gross and plays into the shock value of the game completely. The drug can either heal you, or make you incredible strong to be able to tear someone in half with a power attack. Terribly grim and awesome each time.
The drug seems to be having a rather adverse affect on my character, as he freaks out and throws up at times. I should probably send him to rehab once I'm finished kicking ass.
The game brings out some real classic gameplay from old gems like Streets of Rage, like being able to hit multiple enemies in a line with a kick in the air, to picking up weapons like a bat or a fire extinguisher.
I absolutely love the combinations of attacks you can achieve, from a dash and sliding kick, to grabbing someone and 'using my head'.
If you're not easily shocked, it's actually quite a good beat 'em up. I've been stabbed, had glass smashed in my face, pushed to the floor and punched repeatedly and damn it's a solidly good game. Obvious issues with the keyboard, but who wants to play this type of game with anything other than a gamepad?
Mother Russia Bleeds feels extremely fresh in a world where we are getting a flood of games.
Find
Mother Russia Bleeds on GOG
, or
Steam
.
Some you may have missed, popular articles from the last month: