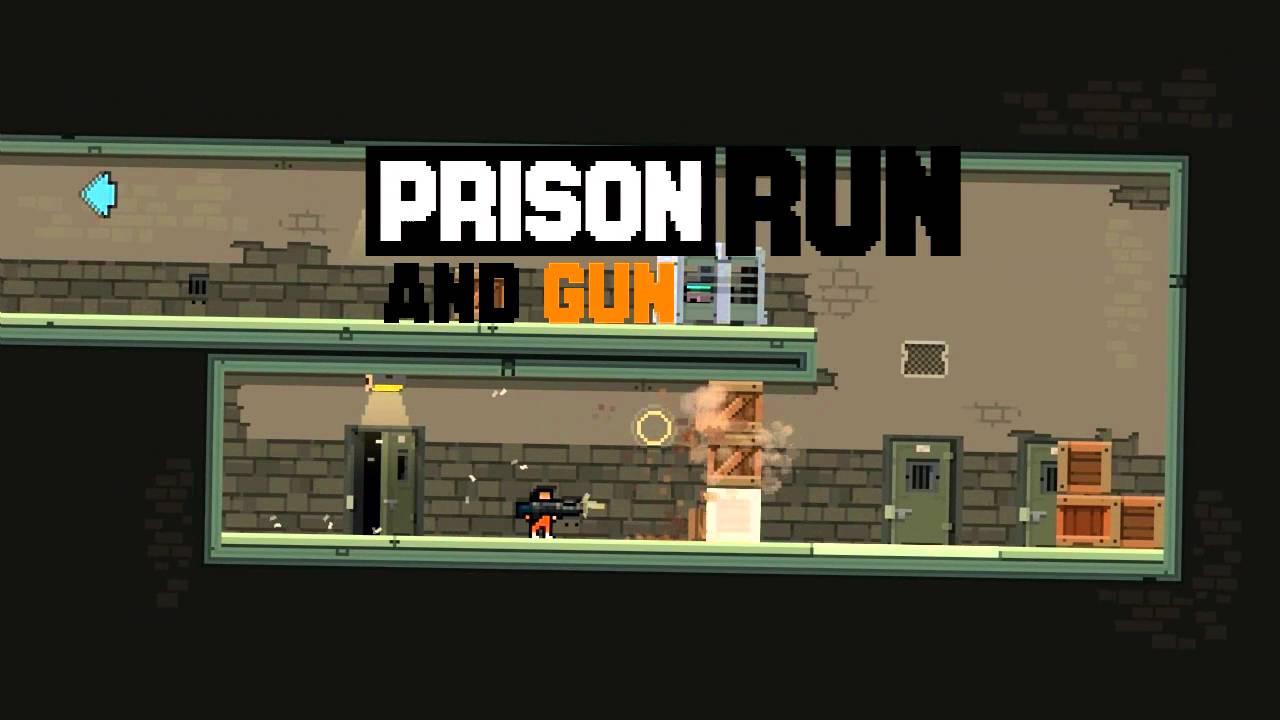 Prison Run and Gun
was a game I discovered because of an IndieDB giveaway, and I kept an eye on it since then, waiting for the right moment to play it. Considering it currently is on sale (60% off), I decided to finally try it.
Something that I find a bit weird is the way the game is introduced: the official description makes you think that it's an independent expansion of another title called
Hot Guns
, and it's stated that if you have purchased this other game, you will get
Prison Run and Gun
automatically for free. However, if you check the store page of this second game you'll find out it's in Early Access. Also, don't expect some kind of interaction between the stories of both games, simply because... there isn't any kind of story: you're only a prisoner who needs to escape from prison, and that is everything you need to know.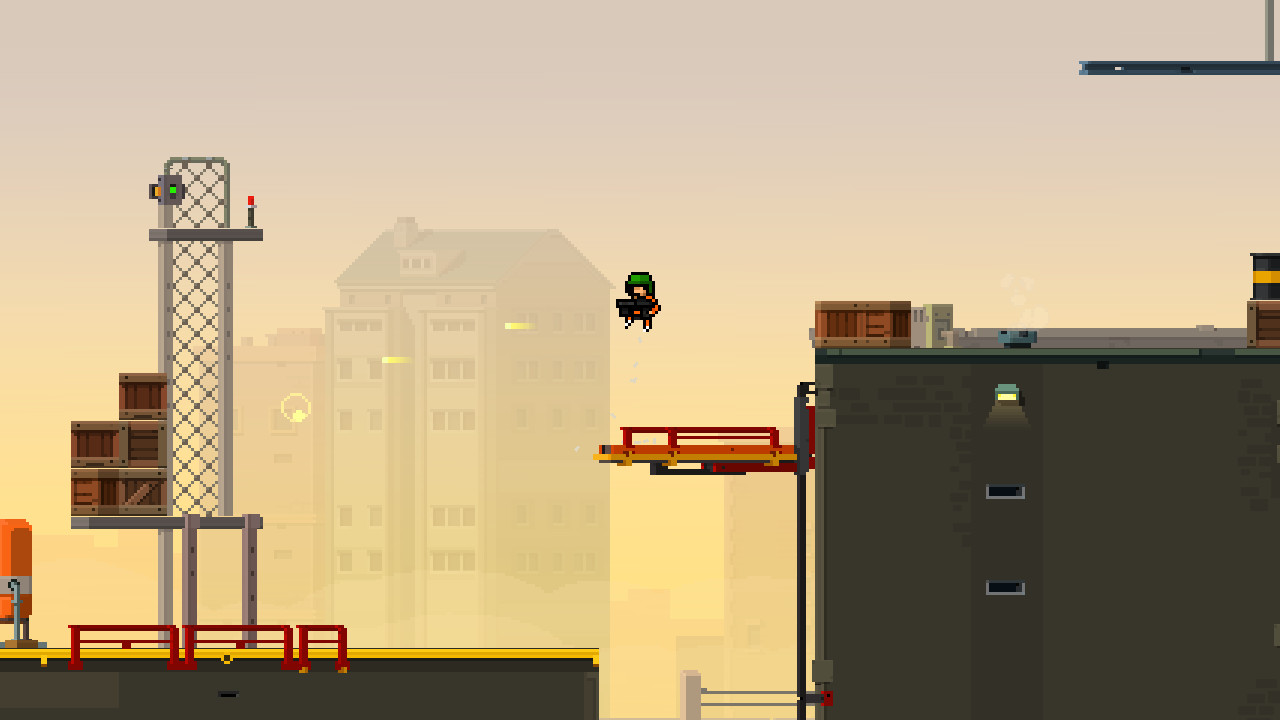 Regarding the graphics, the game uses a simple pixelated style with a yellowish colour palette, which is very nice and fitting. Unlike other platformers, you won't have trouble telling the difference between the background and the actual places and objects you will need to interact with. The only small exceptions are one kind of switches and a dark type of blocks that you need to shoot, but once you see them, starting from that point you will begin to notice them immediately. Plus, I have to remark the quality of the explosions: they are as spectacular as they are dangerous, and blowing things up is truly satisfying.
Another highlight are the animations, which are incredibly fluid. I have to mention one particular enemy, who resembles the Manhacks from
Half Life 2
, that is completely adorable because of how well animated it is. As for the "living" characters the developer used
ragdolls
, so expect to see some funny deaths often. They don't affect the performance at all, and in general the game is nicely optimized, because I didn't get a single case of stuttering, even in my 5 year old PC.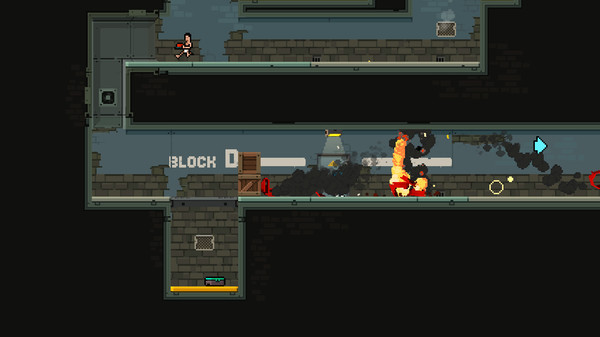 Regarding the game mechanics, a great choice was to feature a minimalistic tutorial, where you simply learn the basics; after that, you'll need to discover the rest by yourself, therefore the game is a puzzler as much as a platformer, and it's expected that you experiment a lot with the different elements you encounter, specially after reaching the second group of levels. You have to be careful though, because in some cases you may end up stuck, or you might commit a mistake that will force you to restart the level. Other parts of the different levels are about timing and precision, but since the controls are so tight and smooth, you'll find them as interesting as the previous sections; you'll die several times on them, but simply because you'll need to practice more, but with some persistence you'll learn to overcome them in a couple of minutes. I would recommend to carefully observe your environment in these sections before doing anything, because although the pace of the game is pretty fast (even more with its catchy soundtrack), it isn't about mindless action after all; also, the game doesn't include timers, so take your time and plan your moves with precaution.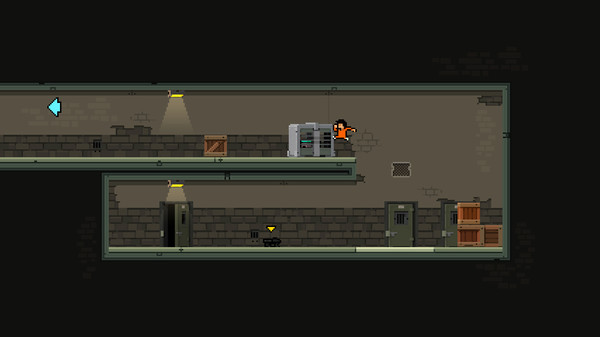 As for the level design, with the exception of the fifth level (which was pretty simplistic and unnecessary) the rest of the levels were very fun and challenging, but without being frustrating. The progression is very balanced, so you'll never face a sector with a sudden increase of difficulty. Possibly the most distinctive feature is the fact that when you carry guns you become heavier, so you won't be able to reach certain places unless you discard them; although you have infinite ammo, sooner or later you always end up leaving the guns behind to advance. However there is an important change in the last levels: they're divided in independent but interconnected sections, but if you reach a new one the game won't autosave, so if you die you'll have to restart the level from the beginning; for these cases, it would've been better to have an autosave option. Though it's understandable why it wasn't included: in some cases, you need to keep a certain item for the following sections, otherwise you won't be able to advance. This may frustrate the most impatient players, so be warned in advance.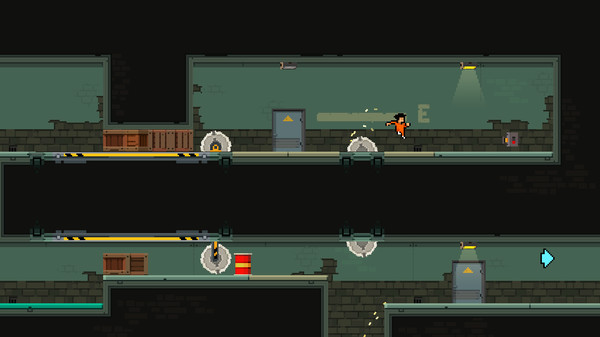 Unfortunately, the game isn't excellent because of an incredibly absurd game decision, regarding the final level: in order to complete it, you'll need to find all the hidden keys throughout the game (one per level, making it a total of 29). The first problem is that you'll reach this final stage but you won't find any signal about what you have to do; you will get stuck there, believing that you need to find something hidden in the level to move forward, because the game doesn't bother to tell you what you need to do; you won't get one single hint. In my personal case, I'm glad I always love to find these hidden objects when I play platformers, so since I momentarily gave up I decided to pick the keys left and then by chance I discovered that they were crucial to finish the game.
And here is when the second problem appears: although the keys aren't hard to spot, some of them are incredibly hard to reach. The worst nightmare in this sense is Level 20, where to get that key you not only need to learn a technique that isn't obvious at all, but also you need to repeat it several times for this level, and even worse, sometimes despite the fact you do all things right it isn't triggered. I must've spent like one hour trying to achieve that horrific section; I didn't get mad or rage-quit, but all the fun and satisfaction I had with the game until that moment simply disappeared. It wasn't fun, at all. As a good news, though, once you beat that part nothing will stop you from finishing the game. Don't expect a great ending, but the most important thing is that you'll have all the way paved to get all the achievements, and that is something so rewarding that you'll immediately forget the bitterness and frustration of that particular section. If by any chance you check the Achievements section of the game, now you'll understand why only 1% of players were able to get them.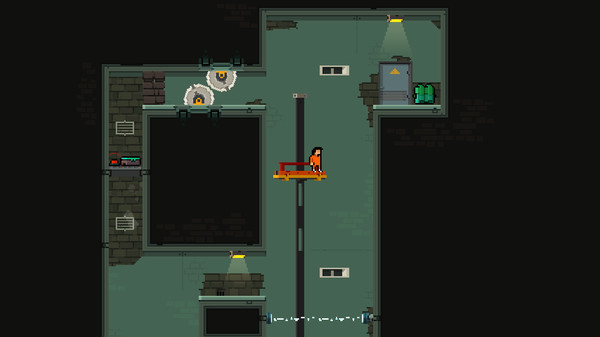 Apart from this singular but huge nuisance, I don't really have any reason not to recommend this title. To sum it up, you'll have a great time for 95% of the game, but after that you have to question yourself if you would accept the fact that you might not be able to see the end of your journey. If you're OK with it, then go ahead and buy it immediately; it's an already cheap game, and it's on sale right now too!
------- TIME LEFT -------
One final note: the game will provide you three Trading Cards. I always prefer to sell them, but for this one I strongly recommend you to do the same, since at the moment they have more value than the average, so you'll recover approximately one third of your already cheap purchase.
Steam Store page
:
Prison Run and Gun
About the game (Official)
Prison Run and Gun
is a retro puzzle platformer with modern gameplay and mechanics.
The recent events in a state prison, involving Jake from Hot Guns Team was a perfect moment for some prisoners to escape - you are one of them. Use your skills and the guns to break through 30 sections standing between you and the freedom!
Some you may have missed, popular articles from the last month: