Realpolitiks [
Steam
,
Official Site
] is a new real-time (with pausing) grand strategy game from Jujubee S.A. and I was sent a key by the developer to be able to take a look.
It does have a demo available on Steam, so it will be worth taking a look to see if it's your thing.
A couple of things to note first of all: The game seems to be locked to 60FPS and you cannot adjust the scrolling speed or the interface at all. I actually found the text a bit too small, which didn't help my enjoyment of it.
The game is obviously inspired by other games from Paradox and the Civilization games, but it is a bit more accessible when compared to Paradox games. There's not so much you need to learn right away, so if you've found Paradox games cover too much this could be what you're after. It has its own flavour, so it's not just an attempt to create a Paradox grand strategy game. The game is heavily focused around the Projects you're able to do and a simple overall score system.
The gameplay revolves around controlling a single country and leading it through any disasters you may face. Your score is based upon your ranking in the world and how well you're managing your economy with unemployment and debt, diplomacy with other countries and so on.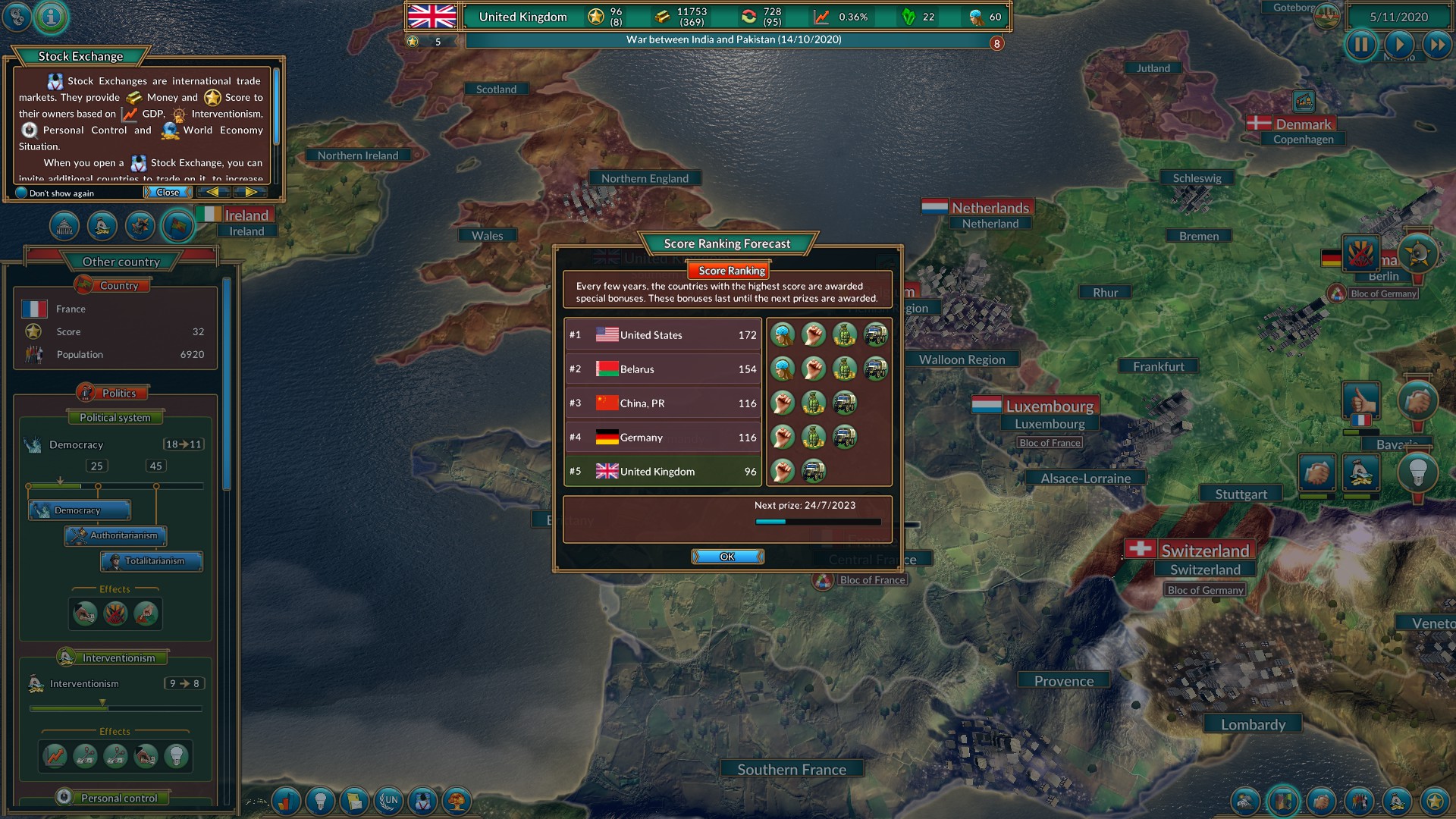 There are a few different types of campaigns to play, each needing different tactics. Some are based on score (like the picture above), some based on taking control of specific countries and so on. There's a good amount of variety there to satisfy whatever type of play-style you like, including an all-out sandbox to do whatever you like to get the top score by the end of the game.
Instead of research, you activate Projects which give various bonuses, but they cost Money and Action Points to activate and have maintenance costs over time too.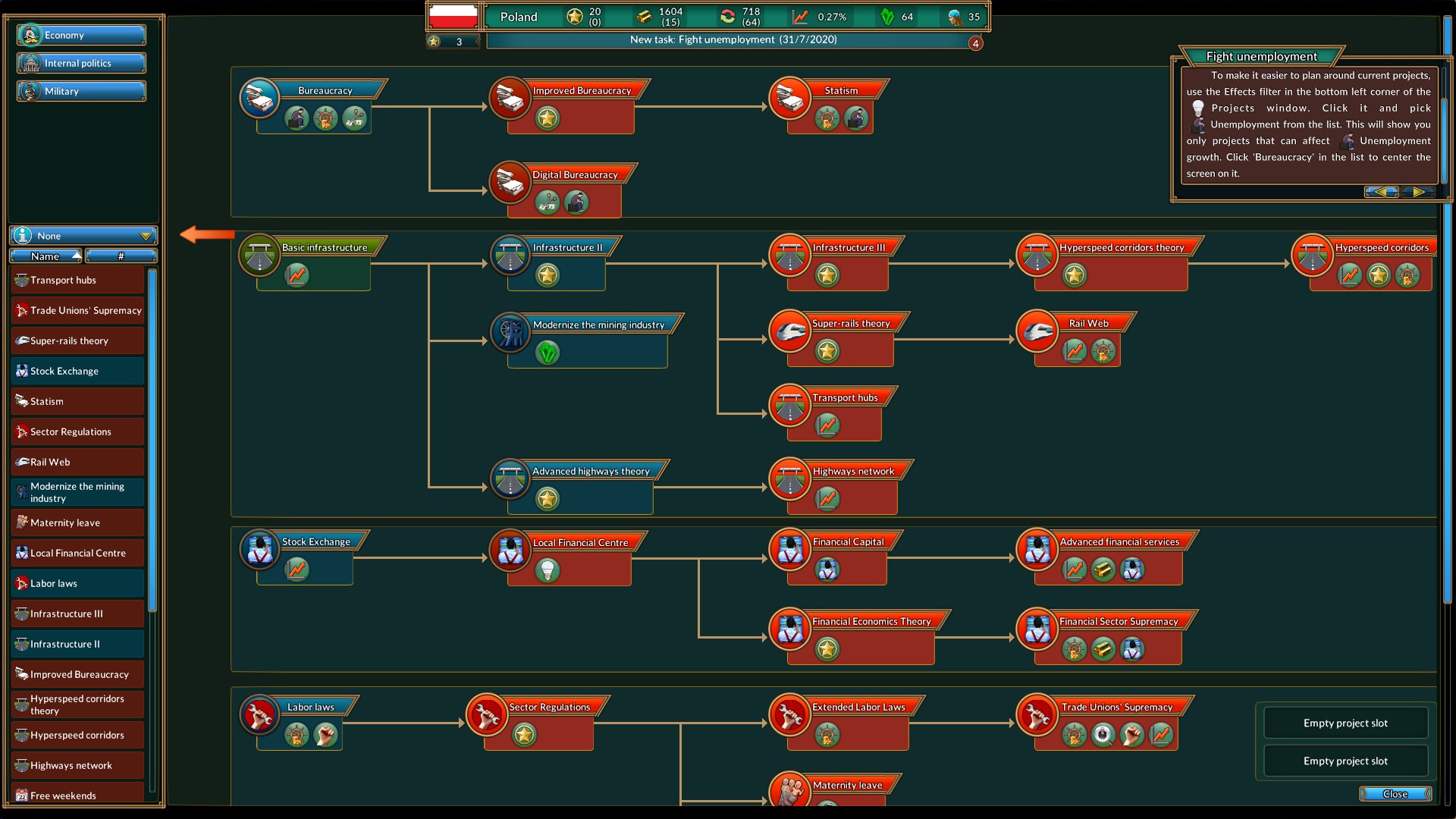 Diplomacy is also pretty streamlined, with you being able to right click a region and bring up a diplomacy menu. From there you can choose to help countries development, to make them like you. You can declare war, invite them to a 'bloc' (where countries join together, like the European Union) if they like you enough.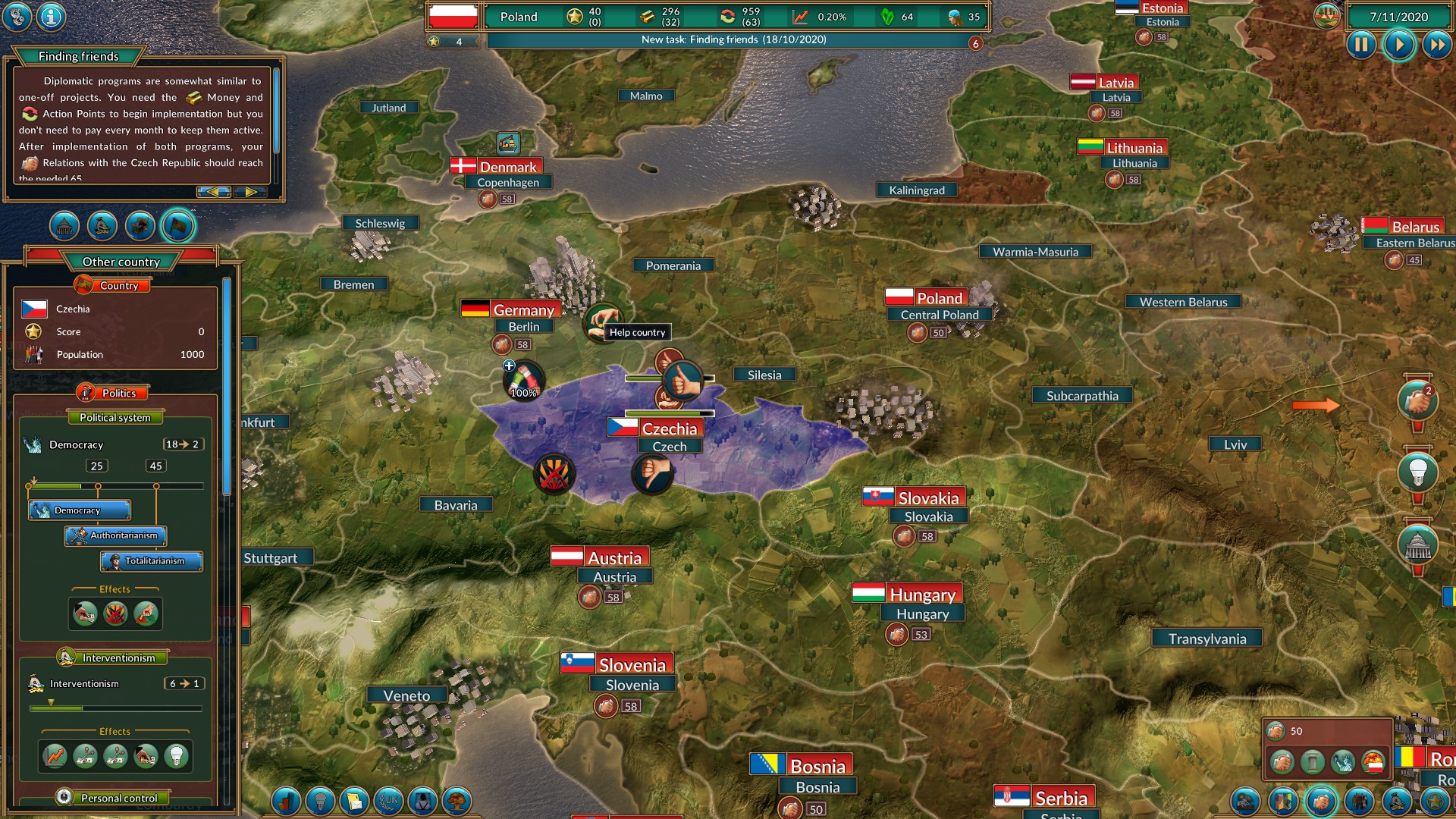 Having a country in your bloc gives you access to their units during conflict time, so it can be very useful, but like everything else, it costs you Money and Action Points for each country in the bloc. You also gain access to special bloc-specific "integrators" like enabling freedom of movement between countries.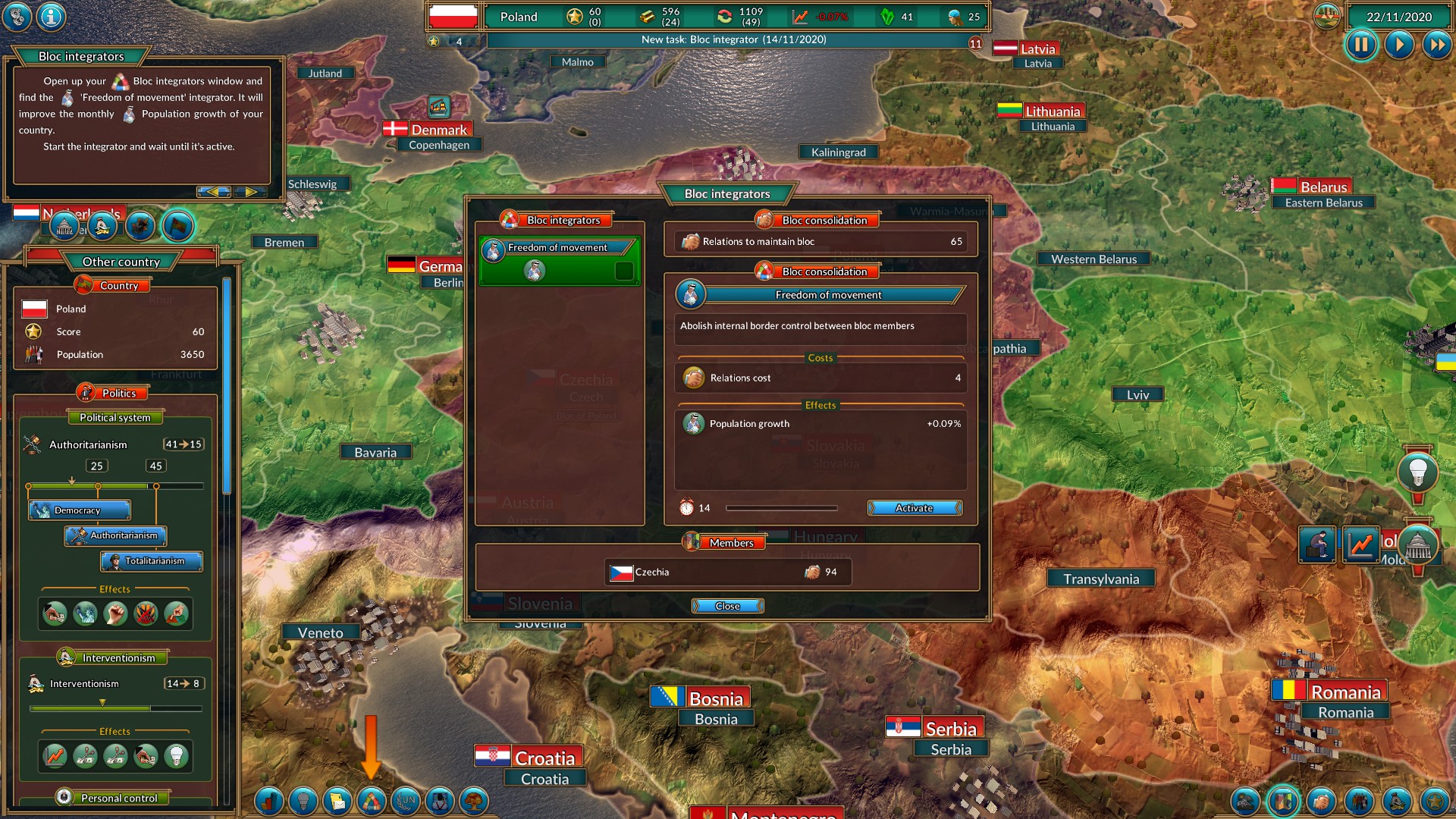 You can send spies into other countries to attempt to influence their political direction too, which is useful since different political systems are often incompatible and you get penalties if you don't match. There's various other things spies can do, they can also attempt to damage the reputation of a country which will lower their relations across the world. Being caught will lower your own though, so use spies carefully.
Visually, the game isn't bad. It has a clear UI where it mostly makes sense and you can hover over most things to get a description. The map has several modes like relations view, terrain view and a simple plain view if you're finding the other views too much.
As far as the games audio is concerned I don't care too much for it, it's happily a game you can play with your own music as you don't really need to hear anything in it.
Overall, it seems like an interesting and unique game with some deep, yet accessible gameplay and it performs well on my machine. I found the various tutorials quite easy to follow, as it steadily introduced more systems to me, which really sold it to me. These games tend to throw too much at you at once, but the tutorial was incredibly streamlined. It also doesn't take days or weeks to win a game, so it's a good choice for people without endless amounts of free time.
Some you may have missed, popular articles from the last month: