Songbringer [GOG, Steam], a rather beautiful adventure and exploration RPG with procedural worlds has released for Linux, here's my thoughts.
Disclosure: Key provided by GOG. With thanks to them for continuing to support us with keys, I'm able to keep giving you my thoughts on Linux games.
Songbringer is an action RPG full of procedural (random) generation, little hand holding and beautifully crisp retro aesthetics. You play as Roq, accompanied by your little robot friend and you stumble across the Nanosword. Naturally you pinch it, but by doing so, you unwittingly awaken an ancient evil.
You start by picking a seed by entering a 6 letter word (or less, if you wish), so naturally I entered "GOL" and began my quest. If anyone wants to try the same world as me, entering in "GOL" should give you the same generated world as I had. That I do genuinely love the idea of, so if you have a run where you think it's worth sharing — go for it!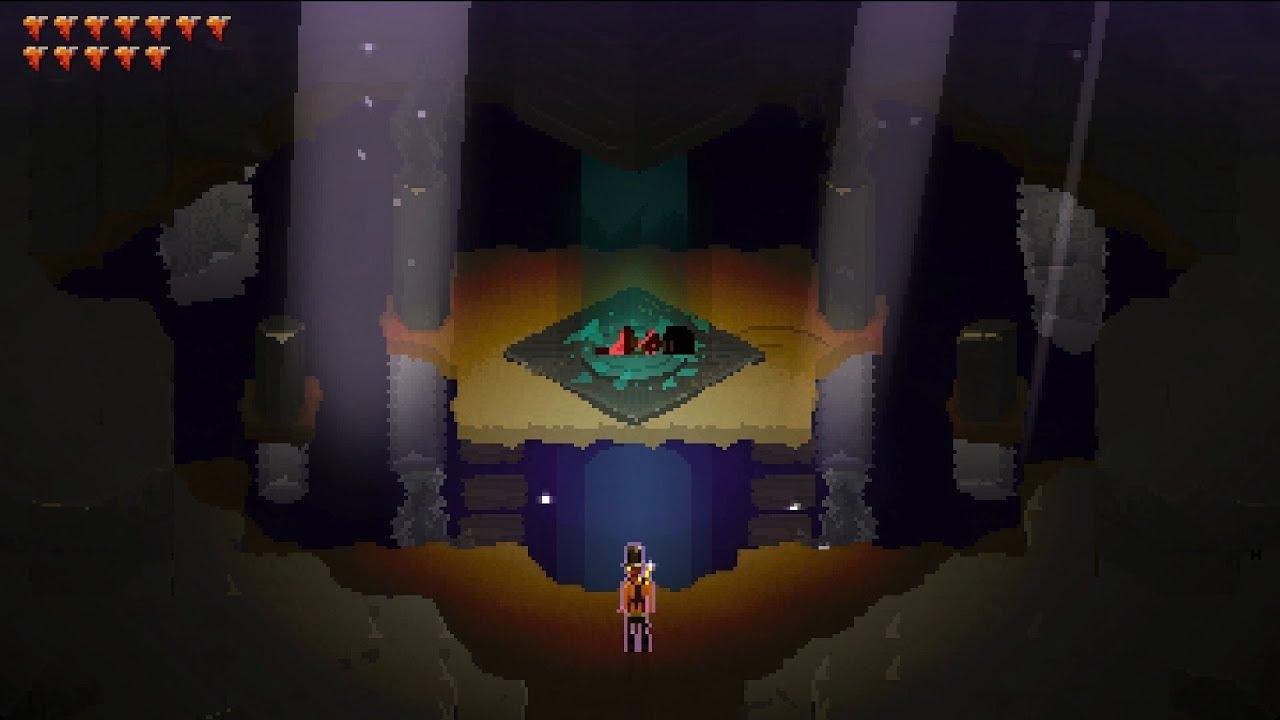 I would say it is quite a bit Zelda-like in terms of the exploration, sword swinging and dungeons side of it. The way you enter dungeons is almost exactly like the latest Zelda game, but that's really where the similarities start and end. It's been compared to it a fair bit already, but I think it does a disservice to developers making their own games, just because they share a few similar features.
There's no XP system, no levelling, just finding the items you need through exploration. You can earn diamonds from fallen enemies, or in hidden places and also use them to purchase items from various shops found in caves too. The items can be quite fun, but due to the random generation you might not see all the interesting items in one go of the game. I found a top hat for example, which I could throw like a boomerang and collect items as well as hitting enemies.
As you explore you will uncover dungeons to raid for various rewards. They were actually really quite interesting to explore, with hidden treasures, but the puzzles weren't really all that complex. Most of the puzzles I did by accident (an exploding enemy hit a wall behind me, which opened up an escape) or required very little thinking. However, I did come across a seemingly impassible door that I never did quite understand how to open. It was red, I had a red keycard and all other doors opened but this one. None of my other abilities worked either, so I'm a lot a loss.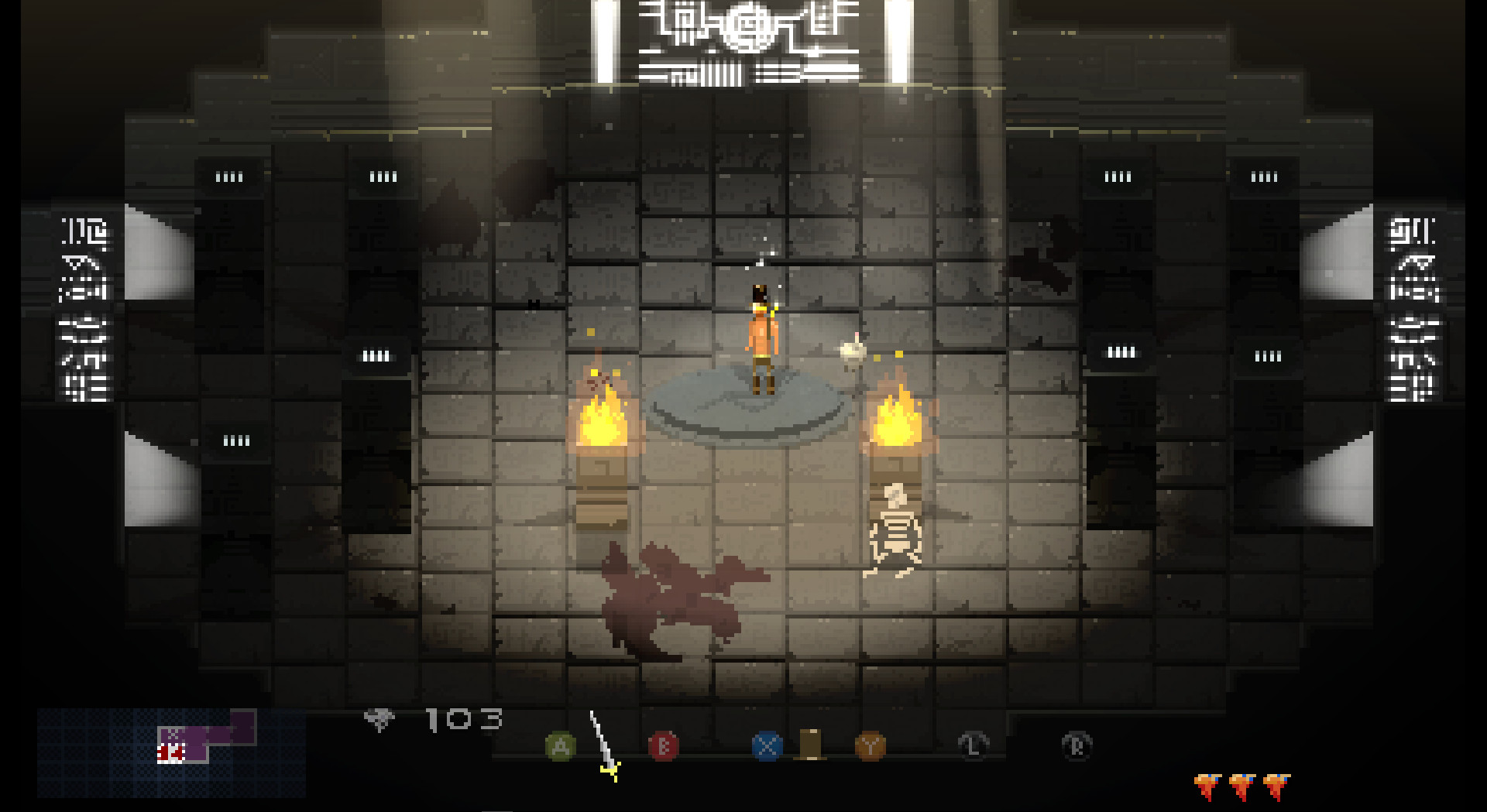 The actual world you're in and the exploration is fantastic. Not just because it's a beautiful game, but the varied enemies, the secrets and no hand holding result in a very interesting experience. Figuring out things for yourself in Songbringer is an absolute joy.
The combat was quite a let-down if I'm being completely honest. It's very simplistic and it comes across feeling quite clumsy due to the limited turning circle of your character. Actually lining up hits isn't as easy as I felt it should be. On top of that, enemies can end up sitting between two zones (where the camera would scroll between them), which became quite a nuisance. You can also end up being pushed between zones while being hit, resulting in backwards and forwards camera scrolling and it got a bit messy and hard to tell what's going on exactly, especially in dark dungeons it was a nuisance.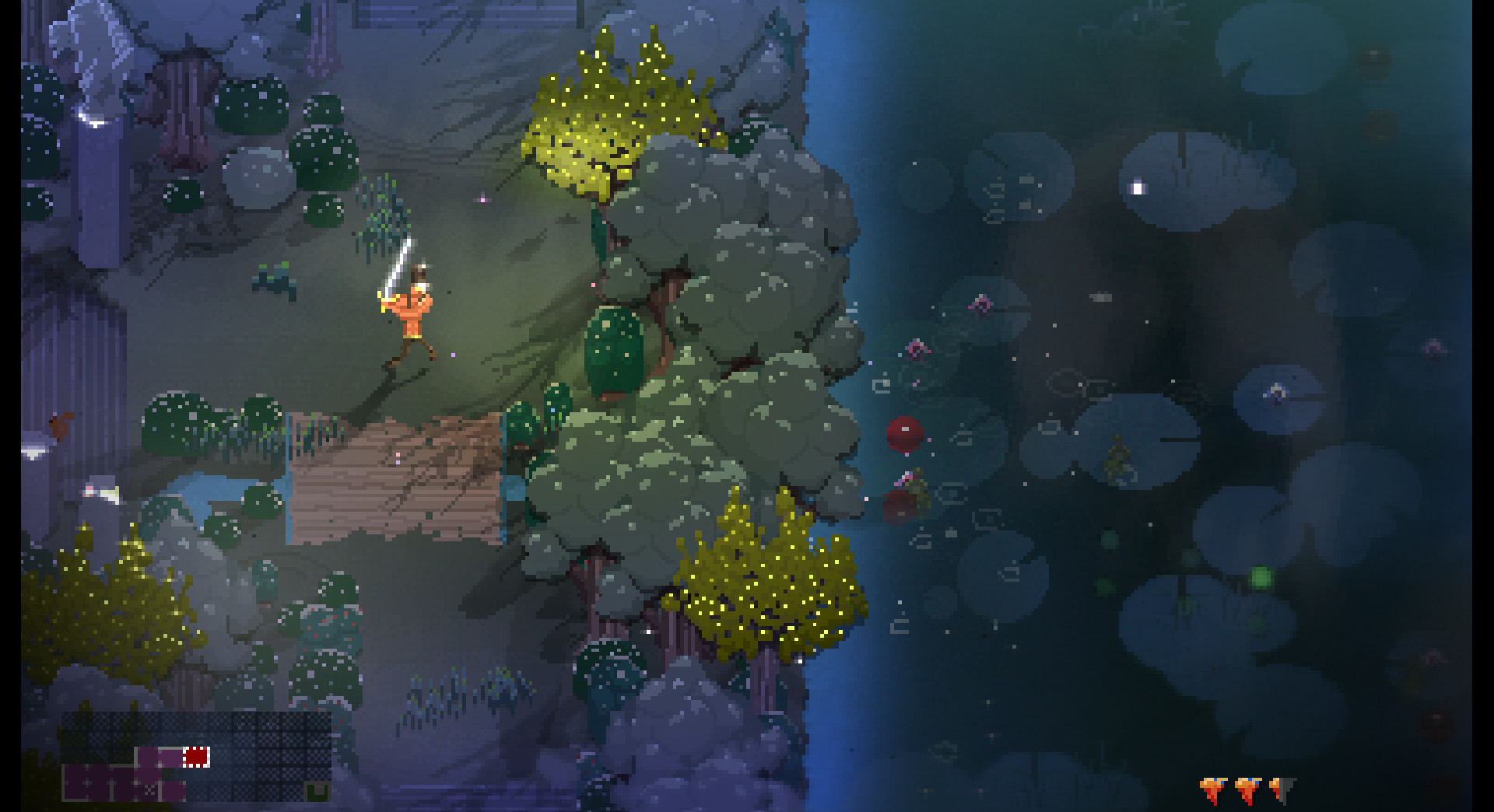 There were other problems too, like locating an item for the first time. Your controls are interrupted whilst you're doing your "Hey! I got a new item!" thing while dialogue comes up telling you what it does, annoyingly the gameplay still goes on so you can still get hit from enemies whilst this is happening.
At one point you gain the ability to eat cacti, which sends you on a weird acid trip and it gives you a bit of a buff. As well as the ability to meditate. Taking a moment to chill and meditate can not only heal some of your courage (health), but it can also uncover some secrets scattered throughout the world. At one point, after fighting off some weird tiny elephants, I sat down to meditate and to my surprise a wall in front of me started to glow and reveal some history.
Sometimes the random generation is a little off. In one attempt I came up against a wall I had to blow up, but it was right at the edge of the screen. Placing down a bomb and changing between the zones of the game made the bomb disappear. The only choice was to place it, let it explode and take some damage.
I'm not really sure just how random the world generation is. I tested a few different words, all resulted in reasonably similarly styled worlds.
Issues
I will start with the major annoyance first, if you have more than one monitor prepare for some pain. It displays full width across both of my monitors and only displays in the middle of them. It uses "cocos2d", which I assume doesn't have very good support for multiple monitors. Okay fine, I will disable one monitor. Then it works, for now.
The game asks you to set your controls right at the start (uh, okay?), but because I had to force quit it due to the above issue, the game captured a bunch of keys I pressed as the defaults, so my controls were completely messed up. Seriously, you have to register normal keyboard input, manually, before even getting into the game, so if that somehow messes up you're in for more issues. I admit that's the worst case scenario though!
Start with sane defaults for the keyboard, then let users adjust later. Why is this not a thing? I don't think it's a good design decision. It is a game meant for a gamepad, but even so, it felt weird.
Thankfully, if you have any silly issues like that you can find the "Saves.txt" file and adjust it. If you have windowing issues like me, you can change this line:
windowSize full
To something like:
windowSize 720p
To get it to run in windowed mode.
Whatever you do, don't go deleting that file to "reset" it. That file not only holds the gamepad/keyboard keys, it also hosts your actual saved games too. They should really split that up.
Since I had the GOG version, it didn't detect the Steam Controller properly. Thankfully we have SC Controller for all our non-Steam needs, although that came with it's own issues. Movement was off, pushing up or left on the stick for more than a second results in you moving in that direction all by yourself, which did make a few things tricky, it also got me killed a few times.
I then decided to pull out my dusty Logitech F310, which works beautifully in every game I throw at it. It worked beautifully again here without issues, once I set the controls for it.
Overall
It succeeds in being an interesting and unique experience, with a few annoying issues. If you're after an adventure and exploration game, with beautiful presentation and a shirtless swordsman as the protagonist it's probably a pretty safe bet.
Some you may have missed, popular articles from the last month: