Strange Masks
is kind of unique but features elements from Concentration/Memory game with a twist of Dungeon crawling.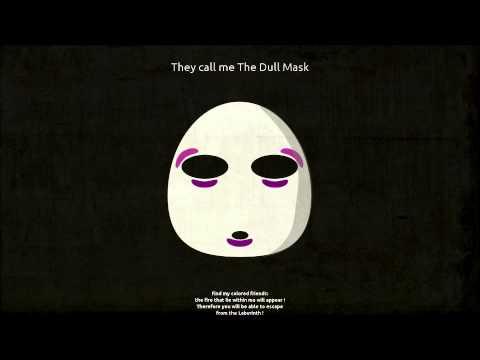 The game features :
- 50 levels of increasing difficulty
- 2 great labyrinths
- 3 difficulty modes
- visual hints options to help you
- various graphic mode ( full screen, windowed )
- auto save
- challenge mode to replay to levels
- various keyboard layouts (arrows, wasd, zqsd)
- gamepad support
- possibility to save your game on dropbox or any folder you like
- no DRM
Price : 4€ / $5 / £3
Also available on
Gameolith
. On Gameolith it's pay a minimum of £1 so you can get it cheap there!
About the developer:
I have created ThinkSlow 3 years ago and have previously released Mind Labyrinth, a puzzle game featuring Neurosky mindwave headset which you already know.
Before that I have been working at Motion-Twin a well known french company for a few years. There among other games, I have created with my friend deepnight (
http://blog.deepnight.net/
) the universe of
www.Die2nite.com
.
Here is an interview I made for
gamesphere.fr
web site where I took time to describe my previous experience (in french but maybe google translate can help you) :
http://www.game-sphere.fr/2012/06/interview-de-whitetigle-un-savant-fou-de-linde/
A word about the game : with Strange Masks I wanted to immerse players into something unusual.
Here, the actual game takes place into your head. You don't really move on screen, you make your own path finding in your head.
Morevoer, since every level is logical you have to try to modelize the whole map to get to the wanted place.
The purpose was trying to make the player play like we did a few years ago with our old computers ( I am talking about spectrum or amstrads ) by making the mind work, by creating and completing the whole universe with the help of the sole imagination. I think it is something that I feel is missing today with all the very visual games and 3d movies we get and something I really enjoy working on.
Last but not least : the linux version offers nothing more than the other version. However the greatest part of the game - all the code and gfx - has been created on linux ( ubuntu and fuduntu ) with open source products : the Haxe Language, the NME game framework ( which sits on top of SDL ) and inkscape for the images.
So I am proud to say that just like Mind Labyrinth, linux is for me the best platform to make games : the most easy to get started with, the most easy to use and the one that allows me to customize everything as I see fit.
I hope you will take pleasure playing to Strange Masks on Linux :)