About half a year ago, I was using the trains in my home town to get to a birthday party. A trip that should have taken me around 45 minutes took me over 3 hours due to bad organisation.
On the way, I had lots of time to think, and one of the thoughts was - why don't we let computers do the work? They'd be so much more efficient!
And then I thought: Why not make a game out of this?
Aaaaand here's the result. Since I'm a passionate Linux user, the game runs natively on Linux .(To play, simply get the truly awesome Löve2D engine
here
. You can also check your sources, there might be a version of Love in there, but make sure it's at least Version 0.8.0!)
Introducing: trAInsported
TrAInsported plays in the near future, all trains are controlled by your AI. Play on various maps and game modes, script your AI in the simple-to-learn "Lua" scripting language (tutorials included in the game).
[/url][url=http://trainsportedgame.no-ip.org/gallery/halfsize/2013-3-19_23-55-15.png]
Features
4 tutorials that teach you all the basics about how to program your AI
Challenge maps and an editor/API that allows player to create and share user-made maps and challenges.
Random matches to train your AI
Most importantly: Upload your AI to the server when you're done, and watch it crush other AIs in live, online matches. Scores will be stored on the server, so everyone can see how you transported way more people than anyone else.
Official Website:
http://trainsportedgame.no-ip.org/
Download:
http://trainsportedgame.no-ip.org/download.php
More info on how to get started: Check out the Wiki, or watch the introductory video below!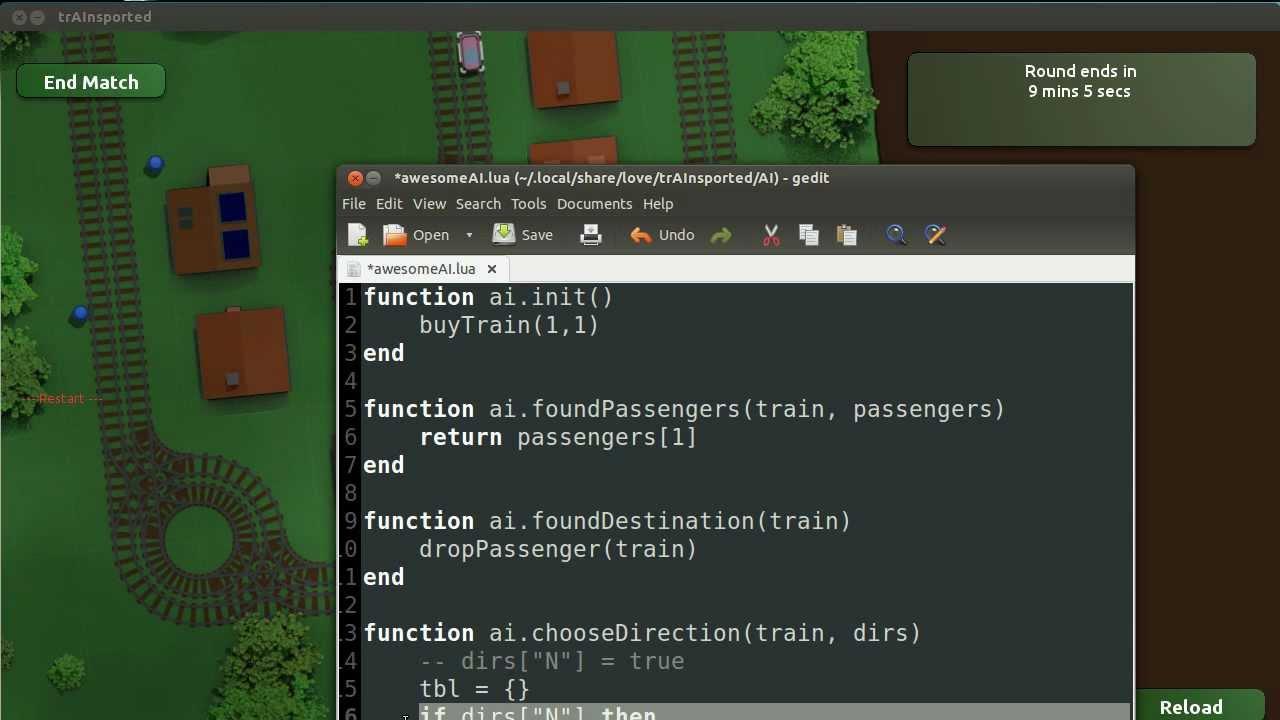 Trivia:
The game server currently runs on a Raspberry-Pi. Just because it's geeky. This means that sometimes, the server is a little slow in responding. Sorry about that, but this is currently the cheapest way to have my own server running. Might change this in the future, if a bag of money drops out of the sky.
Open-Source, runs on Windows, Linux, Mac.
The game does NOT feature Zombies at this point. I still hope it will have a chance on the "market".