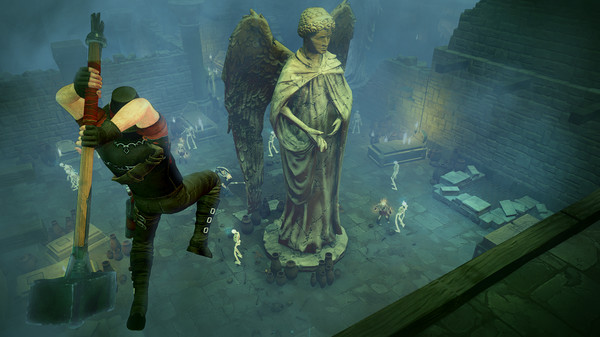 Victor Vran is a game I've been really wanting to see a Linux version, and while it was planned from the start to have one, I didn't think it would be so soon!
Note:
I purchased a copy, but the developer sent a key after as well, so hopefully our Samsai can
GOL Cast
and/or livestream it soon too.
About the game
(Official)
Victor Vran is an isometric Action-RPG with a massive selection of weapons, items, outfits,demon powers and destiny cards. Experience intense combat action with dozens of enemies attacking you from all sides and unleash powerful skills to finish them off!
Victor Vran lets you decide how to play the game. Forge your own personal version of Victor thanks to a vast array of powerful weapons, game-changing outfits, wicked demon powers and destiny cards. Use special moves, combine skills and weapons to wipe out hordes of hideous beasts and clever boss monsters.
I've been following it and the developers have nicely stuck to their roadmap, and they have been gradually adding lots of content and features. It also has very favourable reviews, so I'm optimistic about this.
Some initial thoughts
Reminder: The game is still in Early Access, so we will have another post on it once it is completed.
Performance
Performance with everything on highest isn't great, and gave me just over 30FPS. Setting MSAA to x2 instead of x8, but keeping all else maxed out made it shoot up to 60+FPS, so that's pretty normal as MSAA always destroys FPS. That's pretty damn good for a game that probably isn't optimised yet.
No matter what's going on, the game remains smooth. So, performance wise it's really quite good.
Gameplay
Looks like this will be seriously fun. My fun is amplified by the fact that my Logitech F310 works out of the box, and it's incredibly responsive with a gamepad.
Swinging my sword around, dashing, and doing special attacks is all fluid and satisfying. You can even jump around as much as you want. Jumping is needed to, as you need to vault from the side of one building to another to get to certain sections, and it looks awesome.
Being able to rotate the camera as much as I want is also a big bonus, I can easily get a feel for my surroundings, and for what's lurking around.
There's a fair bit of placeholder art, like the start cutscene which has no audio. They note this, and it will be added in eventually.
Smashing crates for gold is pretty nice as well, with nice animations, and seeing the crates break apart is well done too.
Issues
Switching between the menu, and the on-screen map will often turn the gameplay screen entirely black, so it's a major issue and does make the game a bit unplayable. The developers noted they can reproduce it
from my report
, and are now looking into it.
The in-game bug reporting tool also doesn't accept the "@" key in the email field.
Final Verdict:
Probably best we continue a more in depth look when the black screen issue is fixed. Even with my limited play due to the major graphical issue, this could be my go-to action RPG when it's finished. It seems like it will be barrels of fun.
Check out
Victor Vran on Steam
.
Some you may have missed, popular articles from the last month: