Way of the Passive Fist [Steam] is not the type of brawler I expected it to be, but it's still a very fun experience.
Disclosure: Key provided for me by the developer.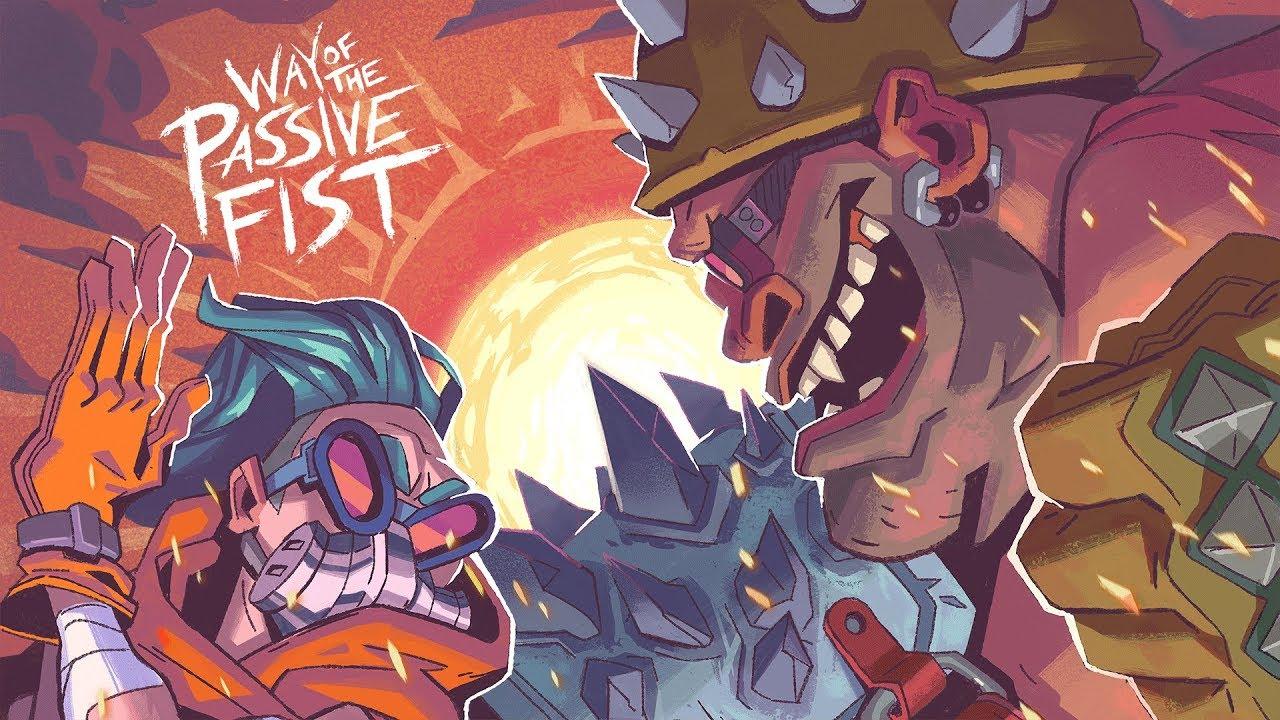 Story:
A mysterious figure known only as the Wanderer travels across the distant planet of Zircon V, a once prosperous mining colony that is now on the brink of destruction in the face of its dying star. By using the Passive Fist technique, the Wanderer can outlast any foe by deflecting their attacks and draining their stamina. With colonists disappearing and maniacs running wild, the Wanderer must stand firm, stay calm and fight for answers in this unique modern brawler!
This is not a button-mashing game, in fact I wouldn't really say it was a brawler at all. Apart from the fact that you're fighting, sure, but the way the game is played is very different to any other brawler. If you're after your next Streets of Rage or whatever, you might want to think again. If you're open to a new experience though, it's certainly an interesting entry.
It certainly nods in the direction of some of the classic brawlers, with enemies that jump in from the sides of the screen and it flashing "GO" in the corner when you need to move on. The artwork is certainly retro-inspired too and it looks absolutely gorgeous. It's vibrant and inviting, retaining the classic style yet it's also smooth and modern in how it plays.
Everything you do is based on timings and following the enemies rhythm. Each enemy has a specific pattern they follow, learning this is the key. You need to know when to parry and when to dodge, getting the timing wrong can obviously be quite fatal. It's a test of your attention, of your ability to stay calm and focus on the rhythm.
What's great about it, is that there is no one size fits all approach when it comes to the difficulty. You can slide up and down various parts of the game to give you an experience you will enjoy: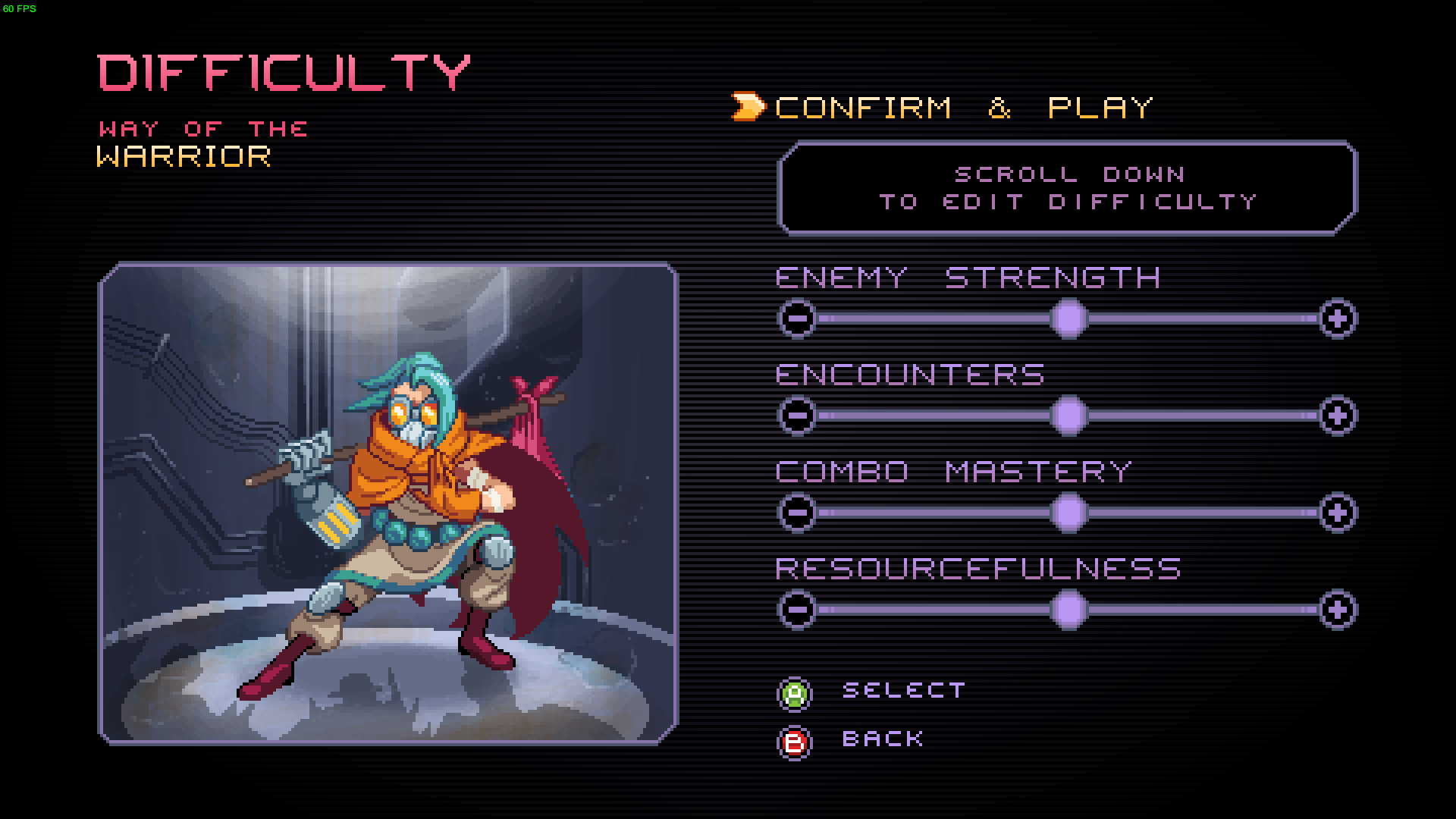 On top of that, there's a few good options you can tweak in the graphics department to make it easier on your eyes too. You can turn off the flashing effects, make the characters have a higher contrast compared to the background and so on. They've thought of quite a lot to make it an experience many can enjoy and that's really good to see.
I have to admit, I've had a huge amount of fun with it. Even now after hours in it, I still get a good laugh when I just slap an enemy after sucking away their stamina with some awesome parries. It can be quite tiring though honestly, some of the enemies do attack pretty quickly, but to help with that you also have your combo meter which fills up as you parry, allowing you to unleash a pretty decent attack.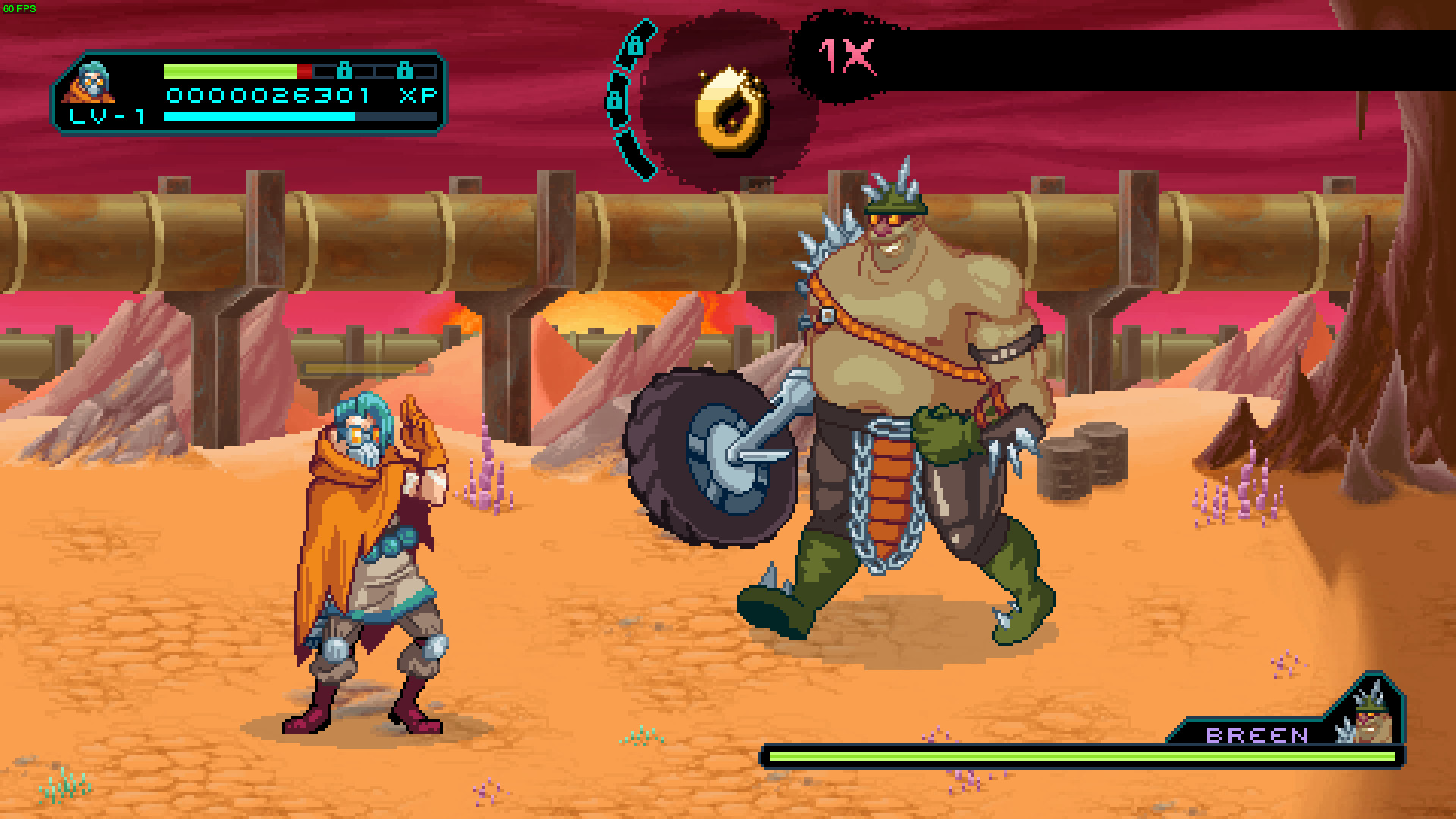 Also, enemies are quite polite in the way that they only usually attack one at a time, but getting the rhythm and timing right when they switch can be difficult. There's bosses to deal with too, which suddenly spikes the difficulty upwards since they can attack at the same time as others. However, they're actually quite simple to deal with once you realize all the other enemies are just fodder for you to charge up to smash the boss with your power attack.
There's also some levels that have extra hazards like landmines or other things dropping on your head that you need to look out for, luckily it seemed the enemy could be hit by it all too, so getting them in the right place was fun. However, it becomes really quite manic when you've got multiple enemies on the screen and environmental hazards firing off as well.
Overall it's good and I did enjoy it, but it's a little exhausting and in terms of content there's not actually a lot. There's only a few different types of enemies, some are just re-skins of previous enemies with a new attack and this is stretched out across levels with multiple acts. That's probably my biggest gripe with it, a little amount of content stretched-out quite thinly. Still, it's definitely a fun experience.
The Linux version runs perfectly too, I haven't had any issues. A joy with the Steam Controller, until you start to ache! You can find Way of the Passive Fist on Steam.
Some you may have missed, popular articles from the last month: