Profiles
Viewing more comments
Fly Dangerous, the 'love letter' to Elite Dangerous racing is now on Steam
24 May 2022 at 10:16 pm UTC
---
Love that gem :> Failing in this since 0.2.0 now

---
X4: Foundations 5.00 gets a Beta with AMD FidelityFX Super Resolution (FSR)
27 January 2022 at 7:07 pm UTC Likes: 1
---
Quoting:

noct

Has anyone had luck with FSR on Linux? I tried it on the weekend, but when I enable FSR it loads for a while and resets my setting. I'm running Pop OS and have a RTX 3070 if that makes a difference, but from what I read FSR should also work on nvidia cards.

Anyways, fantastic game, I recommend this to everyone who likes space games and simulations.
Didn't try it yet but yeah, fantastic game. Sunk many hours into this.
---
DXVK 1.9.3 is out supporting DLSS, D3D9 improvements and more
11 January 2022 at 1:44 pm UTC Likes: 2
---
Quoting:

mrdeathjr

In my case solve invisible things in richard burns rally

I'm curious. Did you know there were invisible things?
Asking because it came as a surprise for me on some games when I could suddenly see something that was missing before. Cinematic videos included

---
Ryan Gordon gets an Epic MegaGrant to further improve SDL, helping with next-gen APIs
15 November 2021 at 3:58 pm UTC Likes: 2
---
Quoting:

Whitewolfe80

Quoting:

Grogan

There's a name I haven't heard in a long time, I'm glad he's still working on Linux gaming. Back in the good old days, he was the guy for porting Linux games. I played a lot of them.

Some of his work still runs perfectly to this day, even if the Loki installers don't. For example, Unreal Tournament 2004... in one of his patches he included a 64 bit build. I still run that SAME game (with the directory copied to new computers over the years) on a pure 64 bit system simply by dropping some older 64 bit libraries in the program directory. (e.g. libstdc++.so.5)


He still does porting work he did the turok ports to linux for nightdrive
Indeed, he has a Patreon thingy going where you can read on his current shenanigans:
https://www.patreon.com/icculus
Ryan is busy, as usual :) We can be happy to have him around.
---
Interplay updating many classic titles on Steam to add support for Linux
18 October 2021 at 2:18 pm UTC Likes: 2
---
QuoteM.A.X.: Mechanized Assault & Exploration
Just by the off chance that anyone is still into this and wants to multiplayer:
Mechanized Assault & eXploration Reloaded
is still out there.
The release is basically fine but very old.
The GIT develop branch has a lot of changes under the hood (mostly moving to SDL2) but we didn't reach release quality [yet]. It also uses CMAKE nowadays so it should be way easier to compile too.
Disclaimer: Yes, that's kinda my baby.
---
I'm now a true convert after using a Vertical Mouse
4 August 2021 at 11:59 am UTC Likes: 2
---
Welcome to team Vertical, Liam 😀
Did basically the same some years ago. I also had the choice between CSL and Anker for starting out and read that they are basically the same. After some weeks of getting used to this I noticed that my always sour wrist would feel a lot better. I didn't like how light the Anker feels tho (and I smashed it all over the table on various occasions due to the unusual height).
Eventually I settled with an Autley, that is a somewhat heaver and a lot larger, fitting my hands better. The internal batteries can be recharged via micro USB connector (and also operated while charging) and can go for days. I'm very very happy with that model.
This one has some really weird plastic tho that sometimes feels very yuk and moist. No idea what this is. I guess the quest for the perfect Vertical will never end.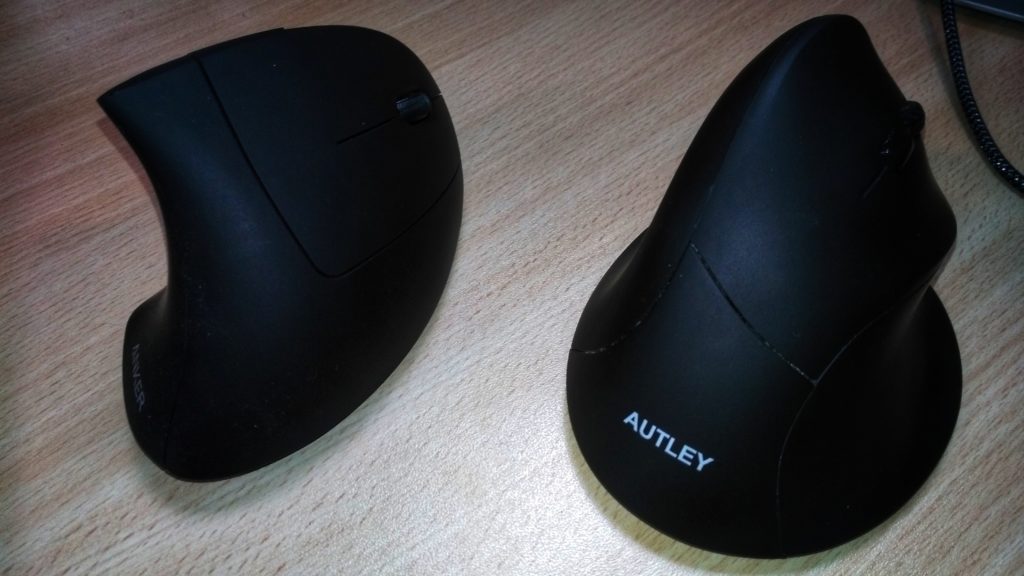 Originally noted at:
https://beko.famkos.net/2021/08/04/on-vertical-mouse/
---