Today, AMD presented their 2022 Product Premiere at CES 2022 with a pre-recorded session hosted by Dr. Lisa Su.
Here's what they announced
AMD Ryzen 6000 Mobile Processors (APUs). Coming with the Zen 3+ 6nm cores, RDNA 2 graphics, USB4 support, PCI-E Gen 4, DDR5 / LPDDR5 support, WiFi 6 / 6E, BTLE 5.2, HDMI 2.1, DisplayPort 2 and AV1 support with "up to" 24 hours battery life. They will also integrate the Microsoft Pluton security chip and AMD say it's the first APU with hardware raytracing. Another big claim being made is "twice the performance" of Ryzen 5000. Since it supports FidelityFX Super Resolution (FSR), they also showed off how much of a performance bump it can give. Ryzen 6000 will arrive in February.
Here's the list of their new mobile CPUs:
Model 

 
Cores / Threads 
Boost Frequency
Cache
TDP
AMD Ryzen 9 6980HX

 
8C/16T 
Up to 5.0GHz
20MB
45W+
AMD Ryzen 9 6980HS

 
8C/16T 
Up to 5.0GHz
20MB
35W
AMD Ryzen 9 6900HX

 
8C/16T 
Up to 4.9GHz 
20MB
45W+
AMD Ryzen 9 6900HS

 
8C/16T 
Up to 4.9GHz 
20MB
35W
AMD Ryzen 7 6800H

 
8C/16T
Up to 4.7GHz
20MB
45W
AMD Ryzen 7 6800HS

 
8C/16T 
Up to 4.7GHz 
20MB
35W
AMD Ryzen 5 6600H

 
6C/12T 
Up to 4.5GHz 
19MB
45W
AMD Ryzen 5 6600HS

 
6C/12T 
Up to 4.5GHz 
19MB
35W
AMD Ryzen 7 6800U  
          
 
8C/16T 
Up to 4.7GHz 
20MB
15-28W  
AMD Ryzen 5 6600U

 
6C/12T 
Up to 4.5GHz 
19MB
15-28W  
AMD Ryzen 7 5825U

 
8C/16T 
Up to 4.5GHz 
20MB
15W  
AMD Ryzen 5 5625U

 
6C/12T 
Up to 4.3GHz 
19MB
15W  
AMD Ryzen 3 5425U

 
4C/8T 
Up to 4.1GHz 
10MB
15W
A whole load of new mobile gaming GPUs to go with them! The S series is for thin and light laptops, with the M series for more powerful gaming laptops:
RX 6800S
RX 6700S
RX 6600S
RX 6850M XT
RX 6650M XT
RX 6650M
RX 6500M
RX 6300M
A new lower end desktop GPU, hey one we might even be able to buy! The AMD Radeon RX 6500 XT. Available January 19, starting at $199. It will have a max of 4GB GDDR6, a typical power requirement of 107 W, supporting DisplayPort 1.4 with DSC and HDMI 2.1 VRR and FRL. The Radeon RX 6400 was also announced in their press release but they didn't give any other details than saying it's a thing, it also wasn't in their presentation.
In total they claim there will be over 18 new graphics chips releasing in 2022, which will include the mobile models.
AMD Ryzen 7 5800X3D is their first processor with their new 3D V-Cache technology. 8 Cores / 16 Threads, up to 4.5GHz Boost / 3.4GHz standard, 64MB AMD 3D V-Cache, 32MB 2D Cache, 105 W TDP and it will slot right into AM4 motherboards. To be available "this spring".
Dr. Lisa Su ended on a preview of their next-gen platform with the 5nm Zen 4. They currently have the AMD Ryzen 7000 series desktop processors running in their labs, and "the performance looks incredible". This will be socket AM5 (LGA 1718) with support for DDR5 and PCI-E Gen 5.
Ryzen 7000 in "on track" to release in the second part of 2022.
"We are excited to start the year launching more than 30 new processors that push the envelope in high-performance computing for every segment of the PC market," said Dr. Su. "Our newest Ryzen and Radeon processors significantly expand our leadership product offerings, bringing more performance, new features and differentiated experiences to gamers, creators and professionals. 2022 looks to be another exceptionally strong year for the PC industry and for AMD."
The full event can be seen below: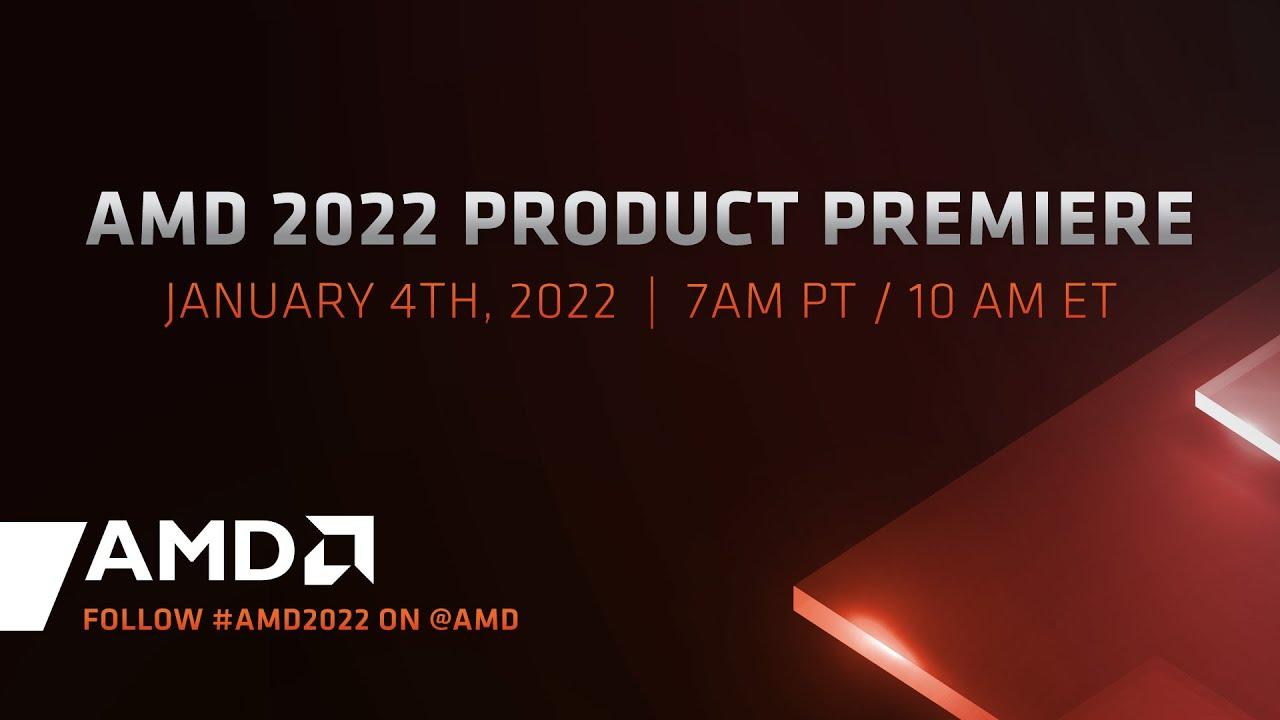 Some you may have missed, popular articles from the last month: