Since a lot of people liked the first set of tips and tricks for the Steam Deck, here's a Part 2 with just a few more that some of you might find useful. Some done before in other videos or articles but this is an easy reference for you.
A video below going over each step, along with the text below: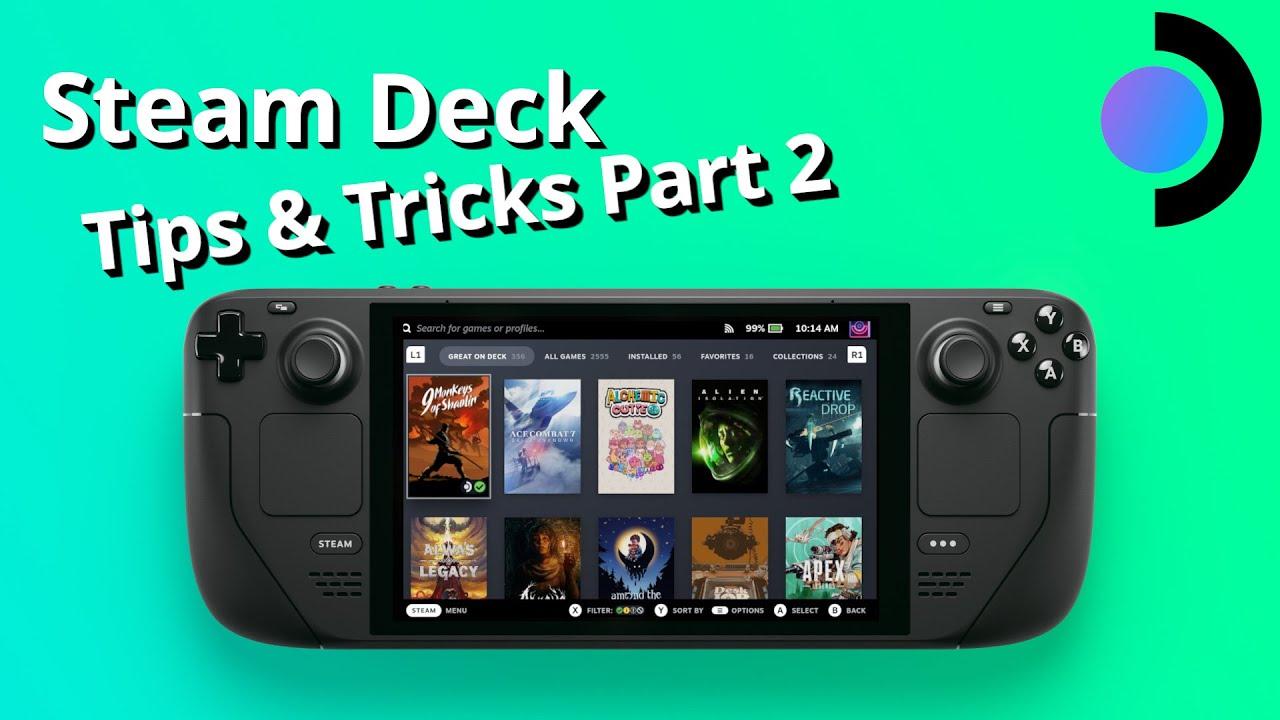 Guide:
First up, schedule updates to late night when you're not on it if you don't want games always doing a full update when you boot up. The Deck will still seem to do shader cache updates though but I've been doing this on desktop for years, it's also great for those of you on limited bandwidth plans.
If a game has a VSync option or a frame limiter, try using that instead of the one built into the performance menu on the Steam Deck, as it can add a bit of extra input lag. How much you feel it depends very much on the game but give the in-game options a try and compare, you might get a nicer experience.
GE-Proton is a community-made version of Proton, the Windows translation layer for running games. At times, it can run games that the official Valve Proton cannot until Valve update it. Despite what some seem to think, you don't need to use GE-Proton for everything and a lot of people don't need it at all. However, it does have fixes for certain games, so give it a try. To set it up go into desktop mode and load up the discover software centre, then search for a program called ProtonUp-Qt which is a handy installer. Once open, pick the version you want and hit install and wait for it to finish. Once done, back in Gaming Mode you can simply pick a game, go to the little Cog icon on the right and into Properties. Compatibility on the left, tick the box and then pick the compatibility layer you wish to use for it.
Want to change how you control the Steam Deck in desktop mode? Load up Steam, go into the Settings to Controller and go into Desktop Configuration. There you can change what button does what and what controls the cursor. Might make it just a little bit nicer for you like setting the Start button to the Windows key to open the Plasma menu, you can do all sorts with it (although they really need to update the style of it to the new configurator).
Are you not getting along with the Steam on-screen keyboard? Try out Core Keyboard, you might find you like it more or it has less issues than the Steam On-screen keyboard. It's also a good idea to have backup, for times when Steam has issues. You can install it in Discover.
Just a small one, but you can drag the "return to game mode" icon onto your status panel to be able to quickly get to it without having to minimize everything to desktop.
Did you somehow lose your return to gaming mode shortcut for the desktop mode? Well, here's how to add it back. Right click the desktop and create a new text file, name it whatever and paste this inside:
[Desktop Entry]
Name=Return to Gaming Mode
Exec=qdbus org.kde.Shutdown /Shutdown org.kde.Shutdown.logout
Icon=steamdeck-gaming-return
Terminal=false
Type=Application
StartupNotify=false
That's copied directly from my existing one.
That's it, save it and done. It will also only give you the warning the first time.
Shop around! While the Steam Deck is primarily meant for Steam and they want you to buy direct, there's plenty of legitimate stores out there selling Steam keys that have constant sales and game bundles. These include Humble Store, Fanatical, Green Man Gaming (and so on) and you should keep an eye on IsThereAnyDeal to find the best price.
And I will take this moment to suggest you don't use the Epic Games Store. Buying on Steam or at least a Steam Key, will give you far better integration and just less hassle for the Deck. Like today for example, where Epic seemed to break something so Legendary and the Heroic Games Launcher wasn't able to login to Epic.
Some you may have missed, popular articles from the last month: