Valve have released another Beta for the Steam Client, the first Beta of 2020 and it pulls in a couple Linux fixes.
Firstly, the newer Steam Library view got some adjustments which includes the played/unplayed filters no longer including/excluding games that were installed but not played. A good fix, making the filters actually accurate. Valve also improved performance of the library artwork "precacher", there's a new "What's New" settings dialogue (with new options) to make it easier to manage what shows up too like this (click the cog next to What's New):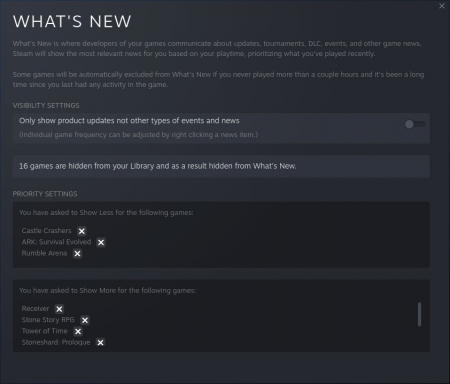 Also fixed this time are hidden achievements sometimes still appearing as hidden in the activity feed even after being achieved and an issue with wrong audio being played from a multi-disc soundtrack was solved. SteamNetworkingSockets also got a fix for a crash caused by certain types of P2P connection failures.
Remote Play got a few tweaks too like cursor scaling on different resolutions and they added a client-side screen magnifier for the toggle magnification controller binding. Remote Play Together will also now actually tell you if you can't join a user due to country or Family View restrictions.
On the Linux side, there's a fix for the Steam Library on NFS mounts and a crash when preparing the hardware survey was solved. See the full changelog here.
Before getting too excited about the hardware survey fix, it's likely not going to really change the percentage of Linux shown. Looking around, it doesn't seem to have been a problem for long (bug report).
---
On the subject of the Steam Hardware Survey, the December report went up showing Linux dropping down to 0.67% (-0.14%) which is the biggest drop in a long time. However, it seems this is being pushed by a sudden surge of users on Steam from Asia again. I've actually emailed Valve about it, since Windows 7 and Simplified Chinese both rose by over 14%. Last time that happened, it was a bug in their reporting system.
I've been told my report has been sent to the people responsible to look into it. I'll be waiting a while to see if they adjust it before adding December to our Steam Tracker.
Some you may have missed, popular articles from the last month: