First off, for those readers who aren't programmers, it's important to define what are the (in)famous regular expressions. According to the Regex Crossword FAQ…
A regular expression (regex or regexp for short) is a special text string for describing a search pattern. (…) For example, if you wanted to find all references to the name "Casper" but using all the different ways of spelling it, you could use the regular expression [CK]asp[ae]r, which will match both "Casper", "Caspar", "Kasper" and "Kaspar".
The thing is: this definition by no means reflects how insanely difficult it is to learn them. There is no other way than repeatedly using them until you eventually start memorizing them, a process that is particularly arduous and unintuitive. This is what Regex Crossword aims to prevent, by hosting a series of Sudoku-like puzzles to help you master them; it won't be an easy process still, but at least it may be more fun…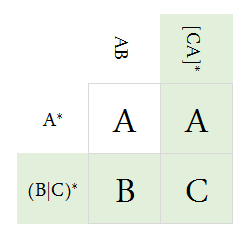 On the left you can see a typical puzzle, in which you must carefully observe the regexs that represent every row or column, and write a letter from a selected list that matches both criteria. You can always press the "Help" button at the top right of the website to visualize a diagram with all the information you need. As you can see, it's easy to understand the rules, but hard to master them.
The website features several sections to make the levels as varied as possible. There is also another area which includes levels made by other users, along with a stats page. Also, if you check the Help and FAQ section, you will be recommended other tools and online resources in case you want to learn a bit more about regexs. Don't forget to use an account so that your progress on the levels can be saved.
Finally, although this project is "something we do for fun", you can donate via PayPal or several cryptocurrencies (check the Help and FAQ section to see which ones are available) to help with hosting expenses and to keep ensuring further improvements and levels.
Visit Regex Crossword via the following link.
Some you may have missed, popular articles from the last month: