The day many have been waiting for, the first part of the huge Caves & Cliffs update is out now for Minecraft.
Probably one of the biggest free updates to Minecraft since release it brings in new mobs including the cute Axolotls, Goats that will give you a swift headbutt, Glow Squid from Minecraft Earth and then there's absolutely tons of new blocks. There's so much new to build with this will keep players going for quite some time now.
Check out their fancy trailer: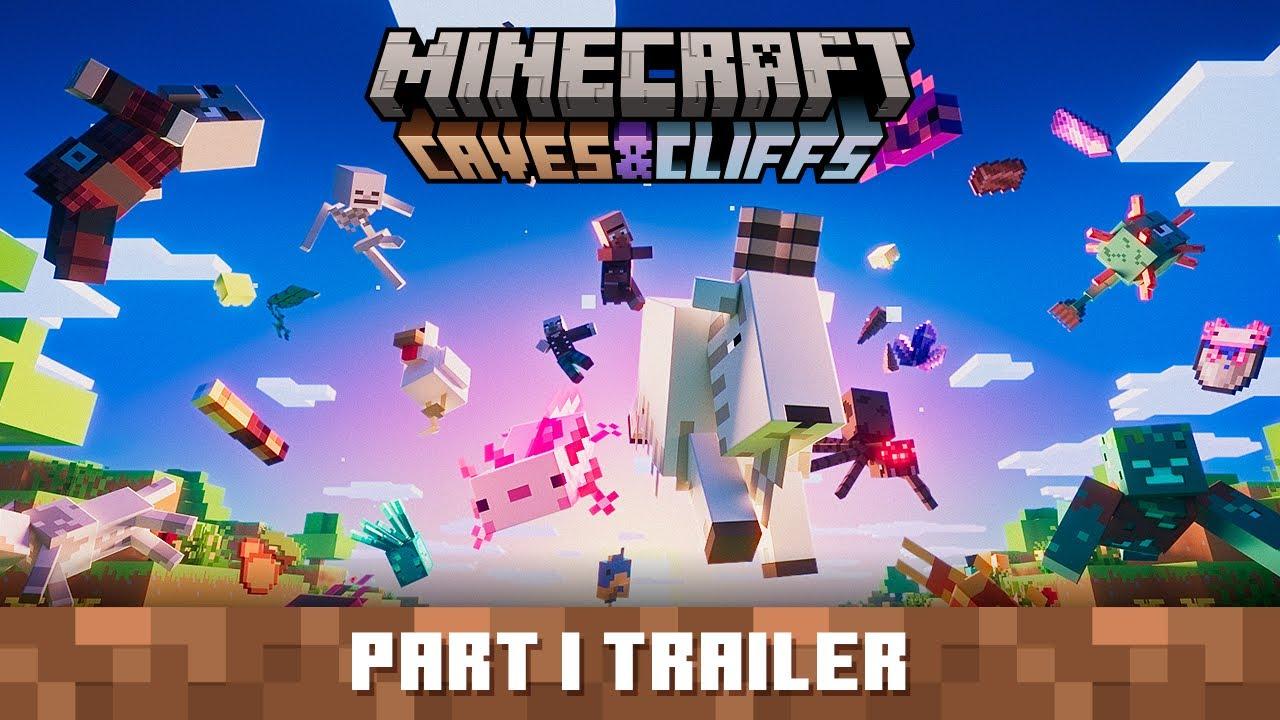 More info about the new mobs:
Axolotl

Axolotls are amphibious creatures that spawn in underground water
Holding a Bucket of Tropical Fish will cause nearby Axolotls to follow the player on both land and in water. Axolotls cannot be tamed but can be bred by feeding them Buckets of Tropical Fish
Axolotl will attack Fish, Squid, Drowned, and Guardians!
Axolotls come in a variety of colors, all with an equal chance of spawning except for blue. Blue Axolotls have a small chance of spawning as a mutation when breeding two Axolotls
Axolotls can survive on dry land for a few minutes. After that they will start to dry out and take continuous damage until rehydrated
When taking damage, there is a chance that the Axolotl will play dead. While playing dead, the Axolotl will regenerate health and mobs will be unable to target the Axolotl
When a player kills a mob that the Axolotl was attacking, they are rewarded with the regeneration effect and their mining fatigue is removed, if they had it
Axolotls can be picked up with buckets, just like fish!

Goat

The winning mob of the MINECON Live 2019 mob vote!
For now, Goats spawn in Extreme Hills. This will change with Caves & Cliffs: Part II
Goats will occasionally ram into players and other mobs
Goats can jump high and take less fall damage than other mobs
Goats will avoid walking onto Powder Snow
Goats can be bred and tempted using Wheat
Use an empty Bucket to get Milk
Keep an ear out for the elusive Screamer Goat!

Glow Squid

The winning mob of the Minecraft Live 2020 mob vote!
Glow squids are aquatic creatures that spawn in underground water
When killed, glow squid drop Glow Ink Sacs
As for blocks you can expect to find: Copper, Glow Ink Sac and Glow Item Frame, Powder Snow, Glow Lichen, Amethyst Geodes, Amethyst Clusters, Budding Amethyst, Cluster Amethyst Blocks, Amethyst Shards, Tinted Glass, Lightning Rod, Spyglass, Raw Ore Items, Raw Ore Blocks and loads more.
Be sure to check the full changelog for all that's new. Linux is supported on the original Java version of Minecraft.
No exact date on Part II, other than it being before the year is up. Part II is where we expected all the new world upgrades, new biomes, the new caves and mountains plus much more - it's a big year for Minecraft fans.
Some you may have missed, popular articles from the last month: