Teku Studios
, an indie game development studio from Spain, presents
CANDLE
, their first videogame for Linux, Windows & Mac.
Candle
 is a
dynamic graphic adventure
. It inherits the spirit of classic cinematic adventures like 
Out of This World
 or 
Flashback
, and the gameplay mechanics of classic platformer adventures like 
Abe's Oddysee
 and 
Abe's Exoddus
, or 
Heart of Darkness
. It is being developed with a unique workflow: by combining traditional art techniques with the modern development tools of the engine
Unity 4
.
Candle
, which is set to be released via digital download nextJanuary, is a 2D sidescrolling adventure and its gameplay combines those of the Platformer and Graphic Adventure genres. The player takes control of
Teku
, a young and inexperienced member of the Tumayku tribe in his journey to save his friends and unravel the mysteries of his world. Through his epic journey he will face many trials and puzzles that the player must solve using his mind and inventiveness. The key feature of Candle's gameplay comes from a very specific ability of Teku: instead of a hand, he
carries a candle
that can be lit at certain places, and he must do whatever he can to prevent it to be extinguished. The flame of the candle is key to solving many of the puzzles, as well as uncovering lots of secrets and clues.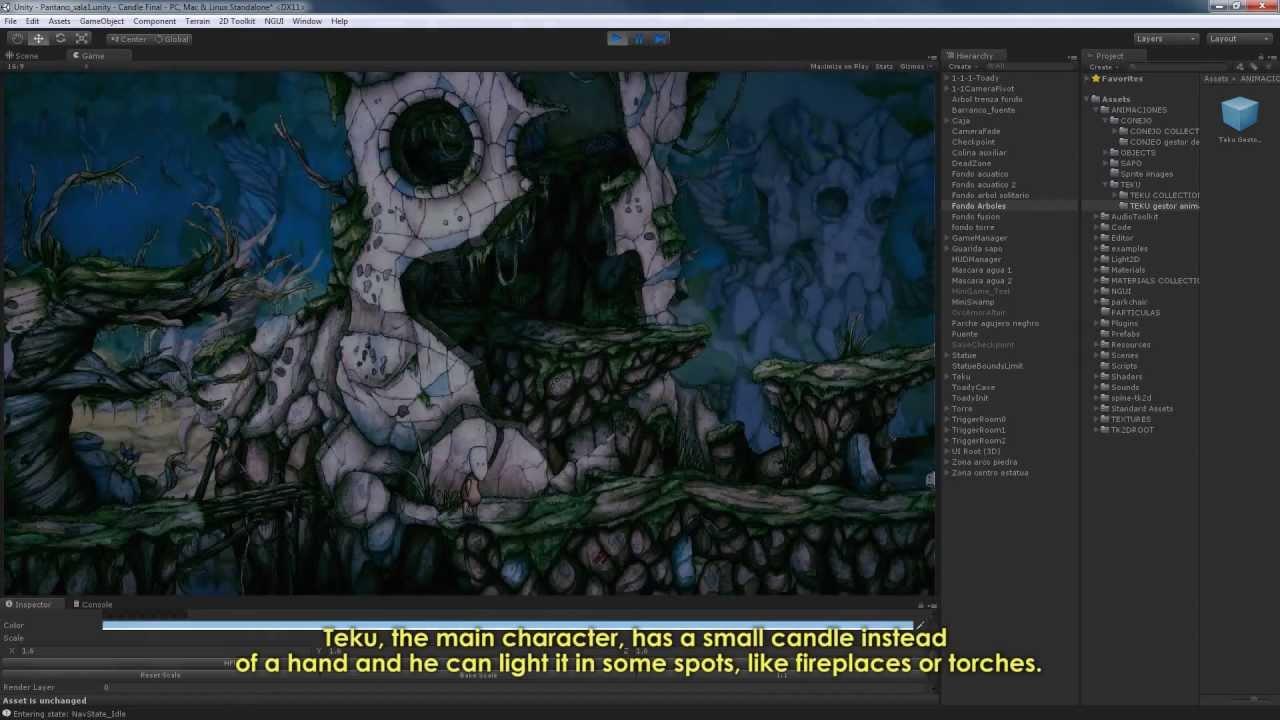 Candle
is being developed with a very unique and innovative process. The team explains it: "we paint the entire graphics of the game in a traditional way with watercolours, and the we scan all that in order to build the sprites of the environments, items, menus, etc. Also, the animations of every character and animal in the game are not digital, instead we draw and paint them frame by frame, then we scan every image and build the spritesheets for the animations. Once we have all this working in Unity, we build each level, each scene and each character and so we get a nice handmade look for the visuals."
The team at Teku Studios clarifies: "it wasn't easy to achieve this result. We knew since the early development stages that we wanted this to be our own art direction, but there are few-to-zero references out there on how to deal with such a process", and that's why "we believe that our method can truly give a personal and unique feeling to our games. If there's one feature that we would be glad if people talked about, it is that".
Candle
is now under development. At first, the team consisted only in 3 people: a programmer, an artist and a composer, but now 3 more people have joined the team to help them boost the development. Fans can now expect more contents and an earlier launch date. Teku Studios has also
launched a Greenlight campaign
to
get the game into Steam
, and if the campaign succeeds the game will not only be available throught that platform, but also feature some key Steamworks functionalities such as Achievements, gamepad support and Cloud Saving. Candle will also be available through Teku Studios' website completely DRM-Free.
Also, Teku Studios is now running a crowdfunding
campaign at Kickstarter
hoping to reach some additional
stretch goals
to improve the game.
Some you may have missed, popular articles from the last month: