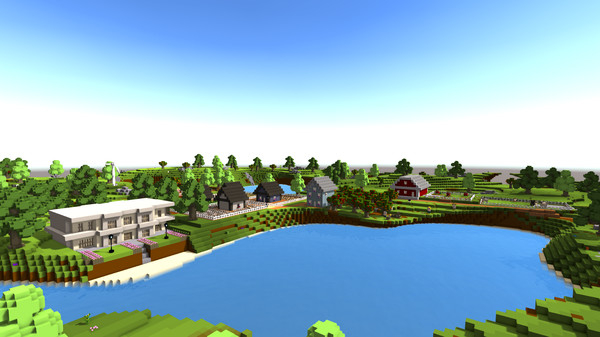 I've been waiting for
The Kindred
to be updated to a point where it's properly playable, and now that it is I was sent keys to this interesting looking town building sim to check out.
It's styled in a "blocky" way much like Minecraft, but the gameplay is very different. This is not a single-person controlled creative/survival game. You're tasked with building up a village for your people, so you will need to get planning.
Right now it has all the basics down like mining and crafting, but it needs quite a bit of work to make all the different interfaces less clunky to use. There's also no real tutorial right now. It does have a few help prompts telling you what to do at the start, but that's all.
The overall interface isn't too bad though, I like the simple way all the options are shown along the bottom of the screen, and it's easy enough to understand. The menus work how you would expect them too, they just have to get the other features up to scratch.
I love building and people management simulations, so I will be checking out The Kindred more and more as it is developed. They have a lot planned for it like multiple biomes, seasons, a life cycle for villagers and more.
It has a day and night cycle already, but I had to turn up both brightness and gamma as I couldn't see a thing. That I feel will need tweaking, as it didn't look good. You can build power and lights, but I still think there needs to be a tweak so you can at least still see the map at night time.
One thing I don't like, is you have to manually assign beds to people. While the idea isn't bad, it doesn't show you who is already assigned to a bed so you have to do it by memory right now.
You have a minimap, but you can't interact with it to scroll.
The inventory screen could do with being more useful, being able to select an item from it, to then place it on the world would make it more useful. Instead right now it only serves to show you what you have, you still need to click through the menu along the bottom to actually place anything.
There's lots of little things like that, which show me it just isn't properly ready yet. So I won't recommend it just yet, as it's still quite bare-bones and there isn't a lot to build, but it's a very promising start.
Performance wise, I had no issues on the smaller map with the highest graphical settings on my 980ti. It doesn't seem like it takes a lot of GPU power, so it should run fine on lower cards.
You can grab
The Kindred on Steam
. It's in Early Access, so it's not finished and constantly changing.
Some you may have missed, popular articles from the last month: