Cubot is a minimalist puzzle game that has been available since early last year on
Itch.io
and
Desura
. Last week it was greenlit and the game is already available on Steam.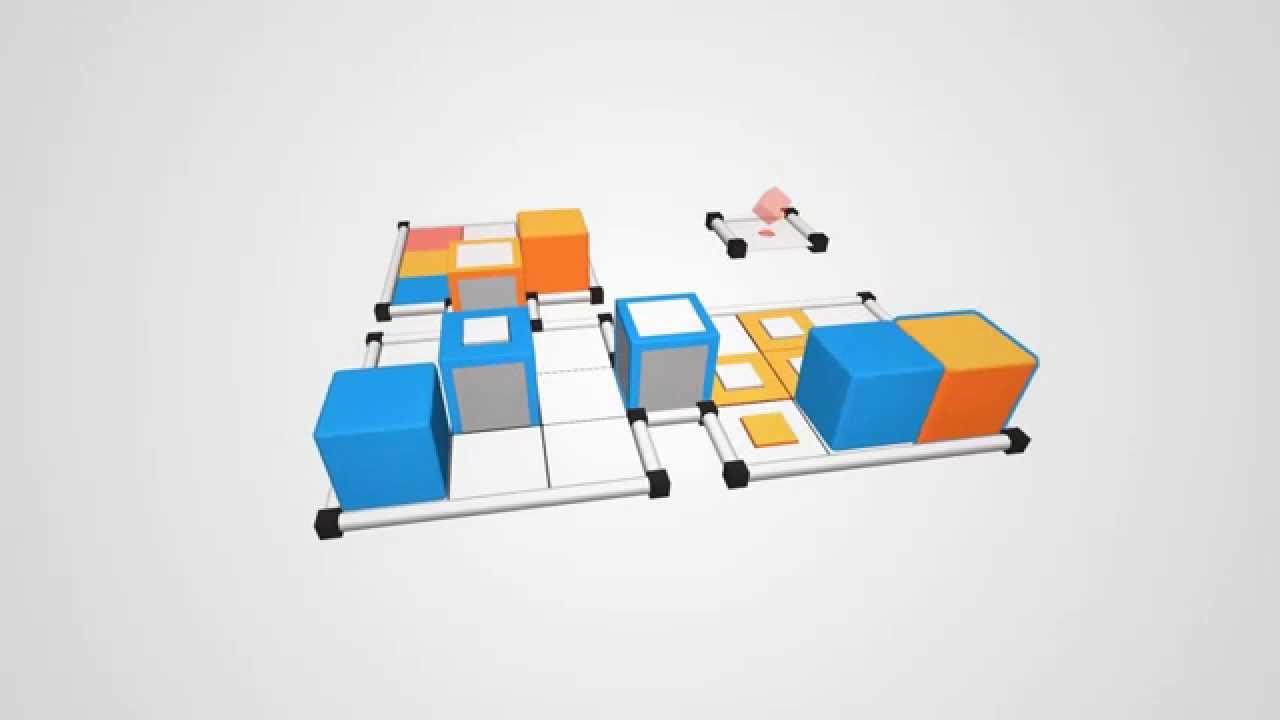 A demo is available on Itch.io and it contains 24 puzzles spread across three episodes. The goal of the game is to move several differently colored cubes into a tile with their respective colors. Sounds easy, but the challenge lies in that all cubes move at once and cubes of different colors behave differently. The puzzles in the demo contain blue and red cubes, where blue cubes move a single tile for every press of a directional button, while red cubes move two if unobstructed. There are also various mechanics at play on the grid itself, like fixed cubes that can be operated by rolling onto a button, and act as either an obstacle or a lift, if moved onto while in the lower position.
I played through the demo and found the puzzles to be quite good even in the starter levels. There's a lot of variation to keep you engaged and for every puzzle you solve you get a number indicating the number of moves for the optimal solution. If you're like me, you'll want to find that perfect solution before moving on. What I found a bit awkward was the the initial orientation of the grid, and it gets a bit tedious to always have to flip it around a bit to see what you're doing. It makes me wonder if this game wouldn't have worked better with a fixed top-down z-axis, where you'd only have to rotate the grid horizontally to get a good overview. The art and UI also look a bit rough around the edges, but if the gameplay is solid I don't mind that. And from what I saw of the demo, the game does look like a good and satisfying challenge for puzzle enthusiasts.
The game is dirt cheap and is, as mentioned, available from
Itch.io
and
Desura
, and now also from
Steam
About the game
At first sight, Cubot is a puzzle-game with a minimalist gameplay, just move color cubes towards tiles of the same color. It's really easy, but it will be a torture for your mind to complete all levels of the game because the apparent simplicity of the game is in contradiction with the complexity of the level-design. Moreover, an important point in the gameplay is if you have multiple cubes, they move simultaneously !
Features:
Easy gameplay, just move cubes... that's it!
Simplistic but not repetitive, use different elements to achieve your goal: buttons, elevators, color swappers, teleporters...
The game and menus have a clean look to not disturb your concentration. In the same vein, the music is very soothing.
There are 80 levels for several hours of playing to keep you challenged.
The challenge increases level by level. If you are stumped, help is available!
If you enjoy cube puzzlers, you might also want to check out
Fake Colours
, which released on Steam last week, and Two Tribes' classic
RUSH
.
Some you may have missed, popular articles from the last month: