Greedy Guns
is a fast paced action platformer with exploration, ability upgrades and loads of bullets. It's available in a free and open beta on
Itch.io
.
The game is inspired by classic shooters like Metal Slug and Contra, but the developers of
Tio Atum
have added their own unique flavor to the formula by adding exploration and ability upgrades typical of the metroidvania genre.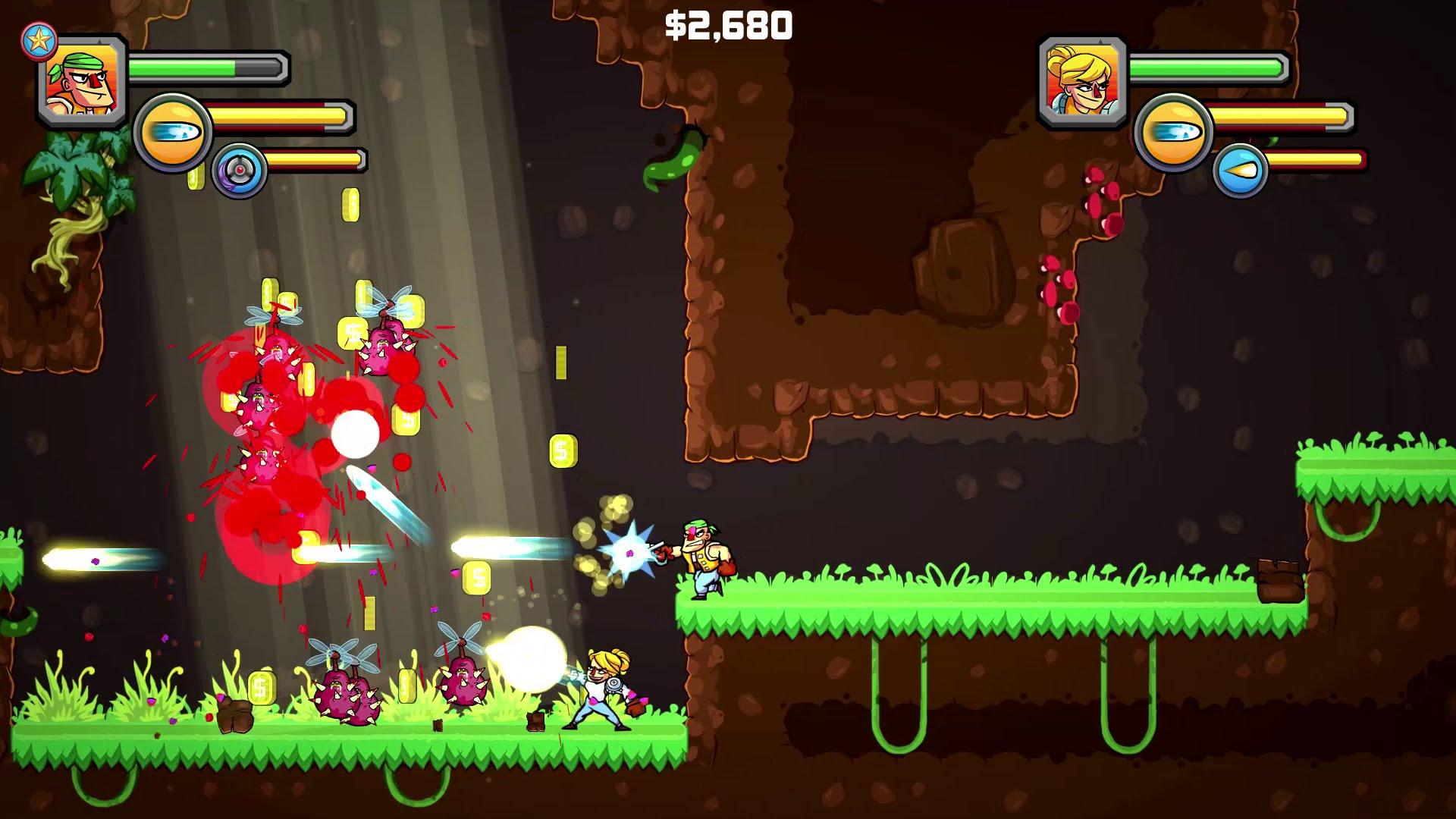 As can be seen in the beta trailer above, the game has a co-op mode. I haven't had a chance to try it myself, but there are options in the menu for local co-op, with either both players on gamepads or one on keyboard and mouse. I've tried single player with both control options, and I slightly prefer keyboard and mouse for the precision it gives when aiming. Gamepad also works well, but since you only have an 8 directional aim, you often have to move into place to effectively hit your target.
I played with my wired Xbox 360 controller, and I liked the default control options. You have movement on the left side, with the left stick for direction and the left trigger for jumps. On the other side of the controller, you aim with the right stick and fire with the right trigger. When you acquire a second weapon, you can switch between weapons by pressing the right bumper button.
You can open a map at all times by pressing the Start button on your controller, or Escape with keyboard controls. This is a nice touch, but at the point I have gotten so far in the beta, there haven't been a whole lot of different paths to choose between. I did acquire a skill that will let me pass through an obstacle I noticed earlier in the game though, and I have noticed other spots where I've wondered if I might have been able to take a different path with certain other abilities typical of these kinds of games.
Just before I ended my session with the game, I fought a boss called Mother Roll, who took me at least a dozen tries to get past. That's where I learned that your guns can actually overheat and need to cool down, and just firing wildly certainly wasn't the best strategy. To get the better of her, I had to strategically use two different kinds of weapons and anticipate the behavior of a lesser enemy I had encountered previously. My agility was also put to the test in avoiding flames the boss spews at you, so the boss serves as a nice way to hone the skills you're supposed to have learnt at that point in the game.
If you think this game sounds interesting and want to help the developer make the Linux build is as solid as possible, you can get the beta from
Itch.io
. There's a contact email on the page that you can use to report bugs and send the developer feedback.
About the game
(Official)
Greedy Guns is a Metroidvania shooter with plenty to kill and explore. Got platforming and shooting skills? Good, you are going to need them!
Inspired by the shooters of old like Gunstar Heroes, Metal Slug and Contra, Greedy Guns adds to it exploration elements and upgradable abilities.
Can a ubiquitous corporation ever be evil? Of course not, profit is beyond ethics! That's why HOLO CORP isn't shy of sending mercenaries to explore and preventively attack alien worlds. In return they get artifacts and DNA that they can use for much needed research. The Greedy Guns team is happy to work for HOLO CORP as long as they pay well. And do they ever. Too bad they also sell them their guns.
Some you may have missed, popular articles from the last month: