There's been a lot of talk lately about Ray Tracing and the Steam Deck, especially after the recent Digital Foundry video but there's a few things that need to be cleared up.
As a reminder: the Steam Deck runs Linux, specifically it's SteamOS "Holo" based on Arch Linux. Right now, Ray Tracing is supported on Linux both for Native Linux titles and Windows title through Proton. NVIDIA has supported Native Vulkan Ray Tracing a long time now, and DirectX Ray Tracing (DXR) is getting into shape too with VKD3D-Proton (that translates Direct3D 12 to Vulkan) version 2.5 that was released back in October 2021 mentioning "DXR 1.0 support is more or less feature complete" and "DXR 1.1 is now experimentally exposed".
For the Steam Deck, the issue isn't specifically to do with Proton. The problem is largely the open source AMD GPU driver in Mesa named "RADV", that just isn't ready yet. Our friends at Phoronix have covered a lot of the bring-up work involved. It works, but it's slow and improvements on it are being done constantly. While there may be some adjustments needed in Proton (which is likely true for NVIDIA too), the key point is the GPU driver on the Steam Deck. You can even enable it per-game right now, by setting this as a launch option: RADV_PERFTEST=rt %command% but again it won't work well. DirectX games likely still need VKD3D_CONFIG=dxr / VKD3D_CONFIG=dxr11 launch options depending on what they use, as noted in the VKD3D-Proton release notes linked above.
Quake II RTX for example runs on the Steam Deck but as you can tell from the screenshot — not well. First is the default OpenGL renderer, second is RTX (click them to enlarge):
For Control, swapping it to Proton Experimental from the default Proton 7 (guide here) and having the launch option set as: VKD3D_CONFIG=dxr RADV_PERFTEST=rt %command% enables the Ray Tracing options to be enabled on Steam Deck too. First picture is the default graphics, second is with Ray Tracing turned on Medium:
Eventually, once the RADV driver is in good shape for Ray Tracing performance, I do expect it to work okay on the Steam Deck when Valve pull in the needed driver updates into SteamOS since some of it is already clearly there, just hidden behind that launch option above.
Hopefully that clears it up somewhat as a few other much bigger websites have mentioned things like "RT features cannot be accessed from Linux" (Eurogamer) and thinking it's Proton itself that cannot "recognize Steam Deck's RDNA 2 cores" (Ars — which was also wrong on Quake II RTX, it's a Native Linux build and doesn't use or need Proton) and whatever else other websites say. Even Digital Foundry were technically incorrect in the video. Really, the point is just to clear up some continuing misconceptions of Linux and the Steam Deck.
Anyway, the DF video is below if you wish to see: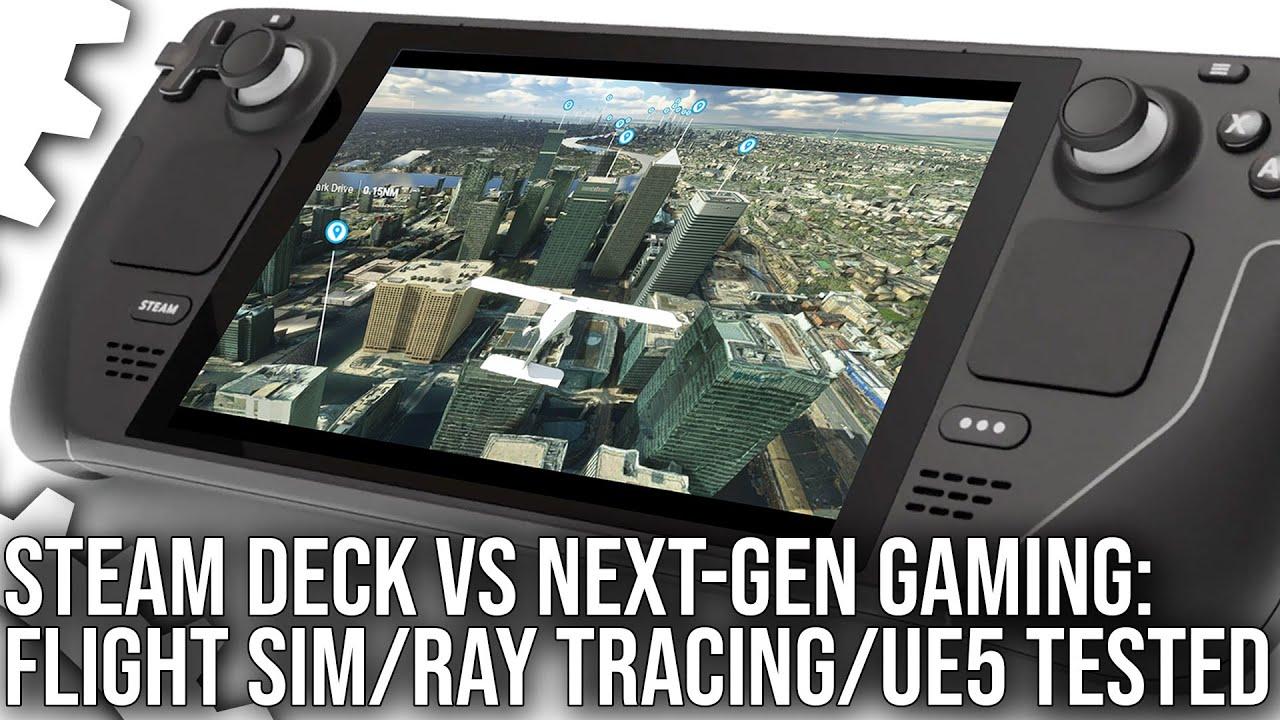 Personally, I don't see Ray Tracing as the key to anything when it comes to the future and longevity of the Steam Deck. What we need is more developers taking a look, and optimizing for it directly so that games still look good and play well, considering it's a portable with limits.
Some you may have missed, popular articles from the last month: